The Upper House is about to debate our bill to end coal in Victoria by 2030. Thank you Brooke from Common Grace for this scarf I'm wearing into the chamber, that represents the increases in global average temperatures from 1919 to 2019. This is why our bill is important.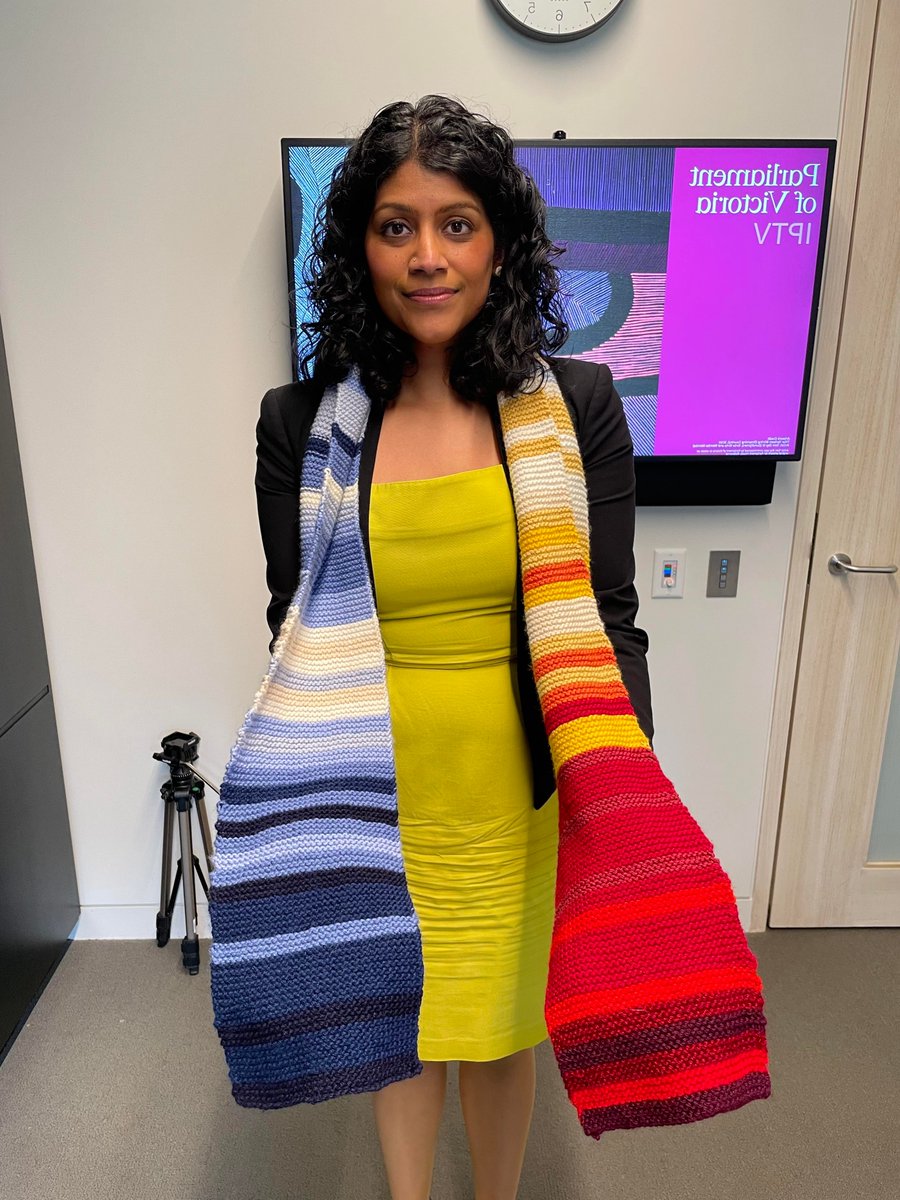 We are in *the* critical decade for climate action. Yet while coal and gas are the leading causes of the climate crisis, Labor and the Libs are pouring fuel on the fire by backing more. I'll be live-tweeting the debate here, or you can watch it online: bit.ly/3QUqfp2
.@Harriet Shing MP is the first speaker on our bill, and she's saying the Government's progress on climate action is "never good enough" for the Greens. It's worth noting that Victoria's approach to coal isn't 'good enough' for the UN, global scientists or environment groups either.
Experts agree that the climate crisis requires states like Victoria to close all coal power stations by 2030. But right now Victoria's coal plants are licensed by Labor to operate as late as 2048.
Shing says that closing coal plants "overnight" would see hundreds of workers displaced, which is quite misleading. Our bill would see coal phased out over the next eight years... (cont.)
... and as part of that transition the Greens want to see a job-for-job guarantee for coal workers and funding to 2035 for an Independent Latrobe Valley Authority. The Govt has no plan for the inevitable closure of our coal plants, leaving workers & the community in limbo.
I've just been criticised for wearing my scarf, with the Government saying "actions are more important than symbols". A bit rich to be lectured on this from a Labor Government whose idea of climate action is logging our native forests and opening up more areas for gas drilling.
Shing is now talking about the cost-of-living. Yet the increase in energy prices here in Victoria are being driven by our unreliable coal-fired power stations. Renewable energy is cheaper - let's get to 100% by 2030!
Shing finishes her speech making it clear that the Government won't be supporting our bill. With Victorians wanting stronger action on climate change, a very disappointing response from Labor.
.@Gordon Rich-Phillips is up now and speaking for the Liberals. The Libs' contribution is their usual denial of the impacts of climate change and the need for stronger action. They won't be supporting our bill.
The debate has adjourned off and both Labor and the Liberals have made clear they won't be supporting our climate bill. In the middle of a climate crisis we need to end our reliance on coal and gas and move towards 100% renewable energy.