For today's @The New York Times I wrote a love letter to celluloid, its surprising renaissance in NYC's cinemas, and the handful of projectionists keeping it alive. nytimes.com/2022/09/23/nyr…
This one is special to me because years ago my parents operated Albuquerque's @Guild Cinema and as a teenager I learned to project on the platter system in its warm, cramped booth. When I came to NYC to study at @Undergrad Film & TV I worked part-time projecting there, too.
Film has had amazing staying power—consider that theaters can still show a 100-year-old print, and you probably can't play your VHS of The Lion King—but when digital took over the multiplex a decade ago, many counted film out. nytimes.com/2012/08/25/mov…
In NYC, however, museums & repertory cinemas have held onto film, & newer institutions like @Alamo Drafthouse NYC @Roxy Cinema New York @Metrograph use it to distinguish themselves. A live film screening is a singular event in a way that the showing of an infinitely rebootable file can never be.
Far from snuffing out 35 mm, digital projection gave the old technology a new meaning. Film prints that were once treated rather casually have become precious art-objects that require great care to handle. And that depends on a tiny band of skilled projectionists.
As Martin Scorsese (yes, I had to take it there) put it to me, watching cinema on film is "about the history of the art form." And projectionists must feel that same love to keep it alive.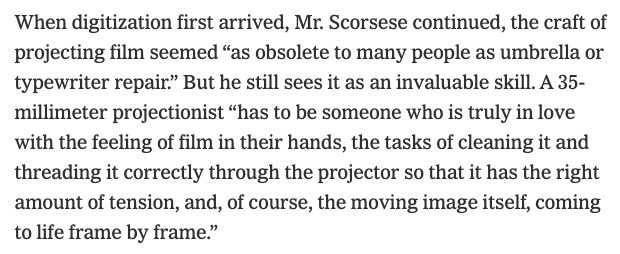 I'm gladdened that other cinemaniacs out there are as taken with it as I am.
There's no end to the 35mm showing somewhere in New York City and @Screen Slate is an amazing resource for keeping track of the showings. screenslate.com
There is also a vital global community of projectionists, who manage a wiki of the craft (sprocketschool.org) and convene at the amiaconference.net (with a projection committee co-chaired by @Anthology Film Archives's @Genevieve HK)
But whose kidding who, click the link for the ridiculous great photos by Evelyn Freja. And as ever, the hidden hand of editor @Hilary Howard.
The comments section of this article has turned into a full-out reunion of projectionists from across NYC and the world beyond: