#taekookau

Jungkook, the college nerd and top student of their class, is tasked with tutoring jock Taehyung before the finals so that Taehyung doesn't fail and can maintain his sports scholarship. And what does Jungkook get in return for the favour?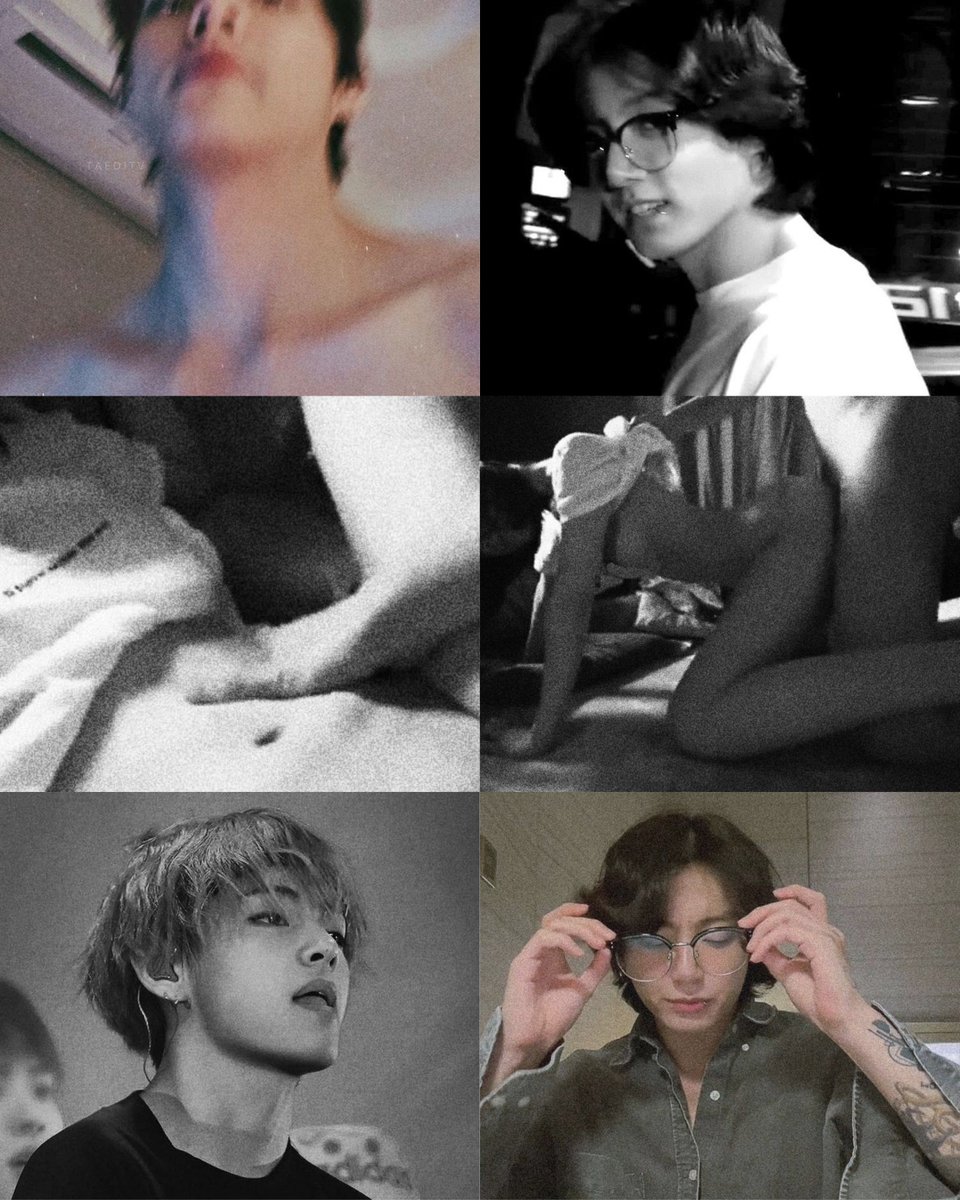 After each study session, he gets railed by said jock. Fvcked stupid and boneless.
tags before I start -2.1k -explicit -minors dni -bottom koo -sort of fwb but not really -vulgar language -rough sex -a healthy dose of banter -gave up on spell check and editing halfway through, so plz don't mind Hope you like this
Taehyung was surprised at the proposal at first. Because let's be real, who would have thought that this innocent looking, grumpy, snobby nerd would want to have sex in return for his tutoring?
"So basically you want me to sell my body to afford your tutions?" Taehyung had snorted, jokingly teasing Jungkook. Jungkook had rolled his eyes, in that signature way of his.
"No, I'm not forcing you to have sex with me. Think of it as a friends with benefit arrangement. Except I'm not your friend but your tutor. I help you study, you help me blow off some steam. It's an equal transaction. If you're down for it of course."
"And what if I don't want to? Would you still tutor me?" Taehyung wheedled. "Well it's not like I have a choice, the professor asked me to teach you and I can't just refuse him-" "Ah, Jeon Jungkook, forever the teacher's pet," Taehyung chimed in a sing song voice.
"Yeah whatever," Jungkook continued unphased, "I'd still tutor you, but with much less enthusiasm since I'd be taking my precious time before the finals to teach you from scratch and get absolutely nothing in return."
Taehyung took a long look at him, staring at him up and down. He has seen what those baggy layers of clothes hide underneath. Only once, in the boys' locker room. Taehyung knows that Jungkook is extremely hot and behind that foul, sassy mouth of his, lies a gorgeous face.
The wolf cut he has been sporting recently really suits him. Taehyung would be lying if he said didn't find him stupidly attractive. He was just messing with Jungkook. He was down for the proposal the moment it rolled out of Jungkook's mouth.
Getting tutored by the top student of their department /and/ getting in his pants? Taehyung would be a fool to turn down such a ludicrous offer.
In fact he'd like to have their very first session right this instant, behind those tall, dusty shelves of obscure poetry and folklores. Have Jungkook pressed against the wall right next to the window with his legs folded and Taehyung's dick up his ass.
But apparently, he has a group study thingy to attend with some other nerds and do their nerdy thing all afternoon. So they come up with a weekly schedule that works for them both and bid their goodbye.
Two hours of studying followed by half an hour of choking on Taehyung's dick. Seems like a great fvcking plan.
And the first few study sessions went by a breeze between learning labour economy and GDP and the haze of sex. Taehyung expected it to be awkward at first. But Jungkook was surprisingly well versed in casual sex and was sports with almost everything.
As long as he gets to be stuffed full he doesn't care for all the decorum much. There wasn't a single surface in Taehyung's small studio apartment where they didn't get down and dirty.
On the bed, on top of the tiny kitchen island, in the shower. The couch was a popular choice since that's where they held their tutoring session, the coffee table littered with intimidating looking books that Jungkook made Taehyung
get from the library and them tangled in the couch, making out aggressively with Jungkook's hands under Taehyung's sweats. Soon they'd end up on the floor. Jungkook on his all fours, back arched and ass up in the air as Taehyung ate him out.
Taehyung's room is messy most of the time and Jungkook doesn't forget to complain about it loudly every time he comes over for tutoring. Even now, there are books and notes and photocopies scattered on the floor.
Pens rolling under the foot of the couch. Unwashed coffee mugs under the table and Taehyung's unfolded laundry hanging off a chair just to the side. Yet Jungkook seems to forget all about it once Taehyung puts his dick in him.
Bunching his grey shirt at his back and holding it tightly in one hand for leverage as he pounds into him from behind. Fat cockhead breaching past the spit slicked hole and plunging deep inside him.
Jungkook moving his hips in tandem to make the most out of it, matching Taehyung thrust for thrust. Taehyung cards his fingers through his hair next, clenching the strands in his fist before tugging harshly. Jungkook's neck bends backwards and mouth opens in a cry of pleasure.
"Look at you, you're such a wh0re Jungkookie. The professors would be so disappointed if they saw you like this. Begging for some cock and so, so needy. Our classmates wouldn't believe it if I told them Jeon Jungkook
deep throated me and loved every moment of me fvcking his face mercilessly, that he creamed his pants when I came on his face. What would they think, hm?" "Don' care," Jungkook gasped, "don' care, just fvck me, god, faster, faster -"
Or when Taehyung impatiently waits throughout their study session, only thinking about the moment he gets to pounce across the coffee table and get his hands all over Jungkook.
But the latter always focuses on the study first, rebuking Taehyung everytime he gets distracted. As expected from the topper. But the moment the study session ends, he's a different person entirely. Ready to make good of his end of bargain.
"-showed you how to solve the numericals, one of each type. Make sure to solve all the others before our next meeting taking those as examples. If you get stuck somewhere, we'd review it again," Jungkook straightens up, closing the book with a finality
before carefully pushing it aside. He takes off his glasses to wipe away some smudges on the lense with the hem of his shirt before putting them back on. He cards his fingers through his hair to fluff them up and untangle the ends in an absent habit.
"Now then, how shall we do it today? On the couch? On the floor or would you have the decency to take me to your bed at least?"
"Isn't it enough that you get to ride my dick at all, pretty boy?" Taehyung drawls. He can already feel himself chubbing up inside his loose sweats. "Must I go through all the troubles of pretending to be decent and gentlemanly for you as well?"
"And what about all the troubles I go through by taking the subway 3 times a week just to come and teach you economy?"
"That's only because you wouldn't let me go to your house for the study sessions because you live with your parents in your posh little neighbourhood and what would mommy dearest say when she hears you scream my name behind close doors while hanging off my dick?"
Jungkook rolled his eyes without any heat, scrunching his nose in that snobbish way he does often, "Gods, do you have to be so vulgar with your words all the time?"
"Aww but you love it!" "Only when you have your dick out. You're truly insufferable when you're not fvcking me, Kim."
"Instead of verbally attacking my ego, why don't you come and use that feisty tongue of yours for something else? Huh Jeon?" Taehyung piped in while taking his dick out of the confines of his underwear, stroking the long shaft with a lazy fist.
Not long after, Jungkook's jacket was on the floor, along with his jeans and boxers. Naked from the waist down, he was deposited on the wide couch. Back bent awkwardly as Taehyung held him between the backrest of the couch and his body.
His plain white tee shirt rucked up to his chest and stomach clenching with the force of Taehyung's thrusts. His legs, hooked over Taehyung's elbows and hanging in air, twitched and shivered with each press of Taehyung's cock against that tight bundle of nerves inside him.
The filthy wet noise of lube against the rim of Jungkook's asshole each time Taehyung pulled all the way out only to plunge back in, the slap of skin against skin.
The obscene yet sweet way Jungkook moaned. Profanities falling off his petal pink lips and the ruddy blush of his soft, round face made Taehyung move even faster.
Jungkook's neck was starting to strain with the way his spine is bent but that didn't stop him from looking right into Taehyung's eyes with his big, doe eyes, glasses askew on his face and plump lips hanging open in loud gasps. He looked downright pornographic.
Taehyung, never in his dreams would've thought Jungkook was capable of making such a face, making those noises. Nerdy, uptight, innocent Jungkook.
Prude, self important, egoistic Jungkook. Spreading his legs for Taehyung, his hole greedy and fluttering for his cock, begging to be filled and fvcked stupid. Taehyung wouldn't have believed it if he didn't witness it himself.
Taehyung's licks his thumb and index finger before bunching Jungkook's shirt over his chest so he can tease a nipple, brown and puffy atop his defined pec.
"Ahnn," Jungkook mewls, clenching around Taehyung for a moment before relaxing. He tucks the hem of his shirt under his chin to expose his other nipple as well, inviting Taehyung to touch and pinch both together.
His hips jump violently when Taehyung tugs at them simultaneously and rubs tight circles around them. "Ah- more, more, more, nnn- Tae-" Jungkook slurred, shoulders hunched as waves of pleasure rolled over him.
His bangs sticky against his forehead and the long ends of his hair clinged to his neck with perspiration. His eyes rolled back and Taehyung continued to rock into him with precise and forceful strokes.
A sudden, violent jerk of his legs over Taehyung's shoulders, his thighs quivering and then he spilled white hot release all over his bare tummy. Thick spurts of cum landing over his belly button and ribs, glistening on the light smattering of hair along his pelvis bone.
Taehyung thrusted into him in a rabid pace before he too pulled out and came all over Jungkook entrance, streaks of cum mixing with lube along his ass crack.
Jungkook cried and shivered, high on euphoria . One of his legs slipped off Taehyung's shoulder till it was hanging off the sofa limply. With the other still hooked over it, he reached between his legs to rub his middle and ring finger against his empty hole,
now gaping and muddied with cum and lube. He circled his fingers along the sensitive and reddened rim a few times before drawing those fingers along the mess of fluids over his stomach and chest. Lazily feeling himself up.
Tae allowed him to busk in the post orgasm bliss for a few moments, simply resting his limp cock against Jungkook's thigh. Before he had to completely pull back. He left Jungkook to pant on his couch to fetch a towel. He threw it on Jungkook's face and gestured towards the clock
"You have an appointment with your mom, remember? Now get your ass off that couch so I can get this place to myself and study before our next session," Taehyung chided.
Used to his somewhat grumpy behaviour, Jungkook didn't mind. Instead he started wiping himself up. But his hands were shaky and his bones felt like jelly. Taehyung snatched the towel from him and started cleaning the mess on his stomach and between his legs instead.
"Mm thanks," Jungkook slurred, trying to sit up properly. Taehyung gathered his discarded clothes and dumped them on Jungkook's lap. Next, Taehyung handed him a bottle of cool water as Jungkook finished dressing up. He was in fresh garments as well.
At the door, Jungkook shoved his feet into his boots, fixing his glasses and hair one final time. "Don't forget to do all your homework before Friday," Jungkook announced once he was already outside of the door, black backpack mounted over his shoulder.
"Don't forget to wear those pink thongs on Friday! You looked so sexy in them. I feel like my academic performance is directly proportional to how hot you look while tutoring me."
Jungkook groaned, "First of all, do you ever just /shut/ the fvck up? And secondly, I'm pretty sure it's the opposite but whatever gets your dick wet. See you in class tomorrow, Kim."
He turned away with those words. Taehyung shouted after him, "You sure don't sound much excited about that!" "I'm only ever excited about pop quizzes and Kim jr." Jungkook carelessly threw a middle finger over his shoulder as strided towards the elevator.
Taehyung stood stunned at his doorstep. Oh my god, did Jungkook, /the/ Jeon perpetually-have-a-stick-up-his-ass Jungkook just make a joke?
end
I do NOT know anything about what they teach y'all at the university economy degree...
consider donating to my ko-fi if you liked this fic Love you guys, mwah
ko-fi.com/fairykoo