The below is my experience of self-styled whistleblower Sam Matthews' commitment to and competence in dealing with cases of antisemitism in the Labour Party. Some journalists writing Labour antisemitism stories were aware of this but didn't include it in their reporting.
On the morning of 7 March 2018, the Telegraph's political editor
@Gordon Rayner
called me and alerted me to David Collier's report on the Palestine Live Facebook group. Rayner was seeking confirmation of the veracity of the contents of the report and comment from Labour.
I looked at Collier's report, ascertained that the Palestine Live Facebook group was real and then printed off both sections of the report, running to about 300 pages. It contained clear and shocking examples of antisemitism from people purporting to be Labour members.
I then called Sam Matthews to ask what action he and his team was taking on the report so the party could respond to media questions. Matthews said his team was conducting due diligence on council candidates so would not investigate immediately but would do so at some point.
I made clear that this was an unacceptable delay as this report was now in the public domain and I was already receiving questions from journalists about it. I argued that the party should say that we were investigating and taking action - and that had to be true.
I argued that an investigation should be opened and action begun to be taken by the time of Labour's regular question and answer session with the media after Prime Minister's Questions that day.
During PMQs, I had a text exchange with Matthews, who informed me that there had been suspensions and who they were. Following PMQs, I issued the following statement as a Labour Party spokesperson: "Jeremy condemns antisemitism in all its forms in the strongest possible terms...
"...He does not want the support of antisemites, who have no place whatsoever in the labour movement. This Facebook group is being investigated and if Labour members are found to have posted antisemitic material, disciplinary action will be taken."
I further told one journalist on an off the record, non-attributable basis, that the investigation had already resulted in suspensions, without revealing who action had been taken against.
I was surprised that Matthews had suspended a Jewish peace activist, who barely appeared in the report. In fact, Collier wrote that this activist "has had minimal interaction" with the Palestine Live group and "posted rarely" (AIPL report part two p 113).
I was likewise alarmed that a clear case of holocaust denial from somebody who claimed to be a Labour member hadn't yet been acted on. I was personally concerned that such clear cut and vicious antisemitism was possibly not being dealt with.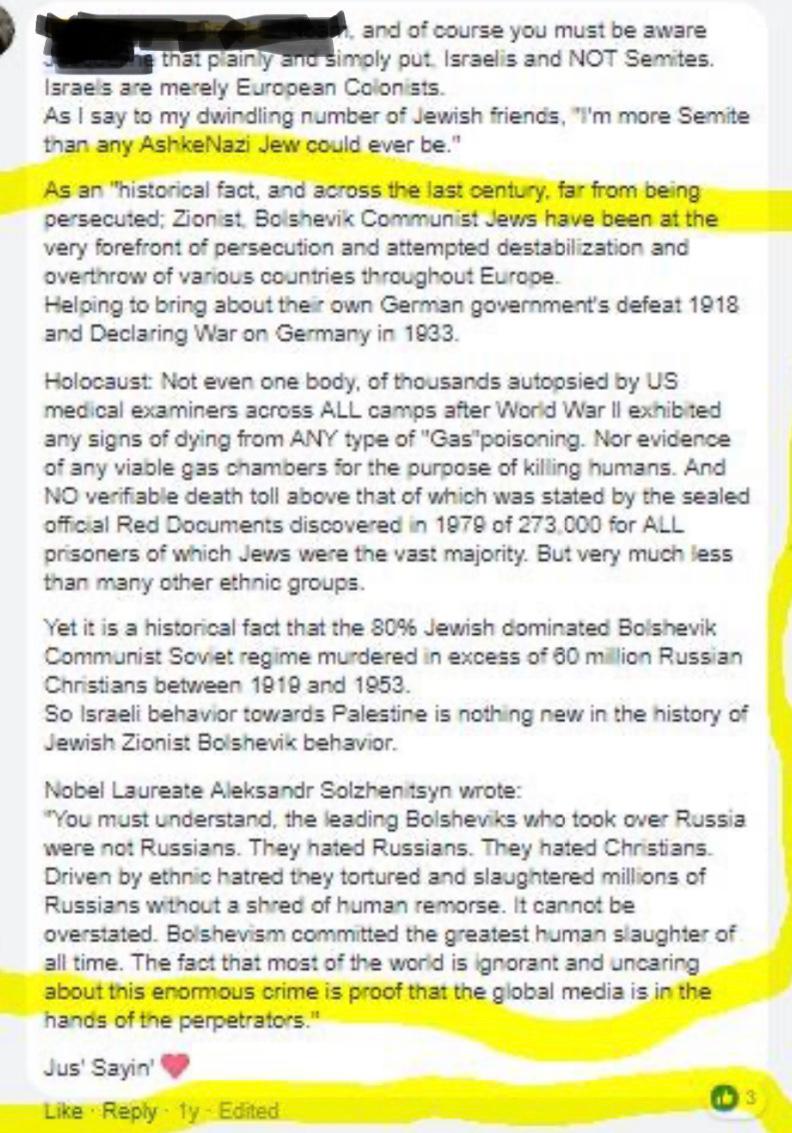 I was professionally concerned that the party could receive questions asking why the Jewish activist had been suspended and whether the holocaust denier had been. Any journalist or researcher could go through Collier's report, as I had, and find the evidence.
Given the Jewish activist would likely make their suspension public and challenge the party over it, which is exactly what then happened, the two cases could be put to the party the next day.
The party's inability to answer that question could further undermine trust in the complaints process, making rebuilding relations with the Jewish community and tackling antisemitism in the party more difficult.
I sent a text to Matthews at 17:12 to ask why the Jewish activist had been suspended but no action was taken against the holocaust denier, writing: "Why [name of Jewish activist]? Barely appears. What about [name of holocaust denier]? Holocaust denial on p 124 of part two"
Matthews replied, "There is enough on [name of Jewish activist] to justify disciplinary action. Officers are working methodically through the rest of the document to identify others and take appropriate action."
While I was troubled by the speed of action to suspend a Jewish activist relative to a clear cut holocaust denier, I assumed that the latter would be dealt with by Matthews. I was wrong.
I came across the case of this holocaust denier again in the course of my work dealing with media story the following year. I was appalled to discover that Matthews had taken no action in 2018 and the case hadn't even been logged. No action on this case despite my text: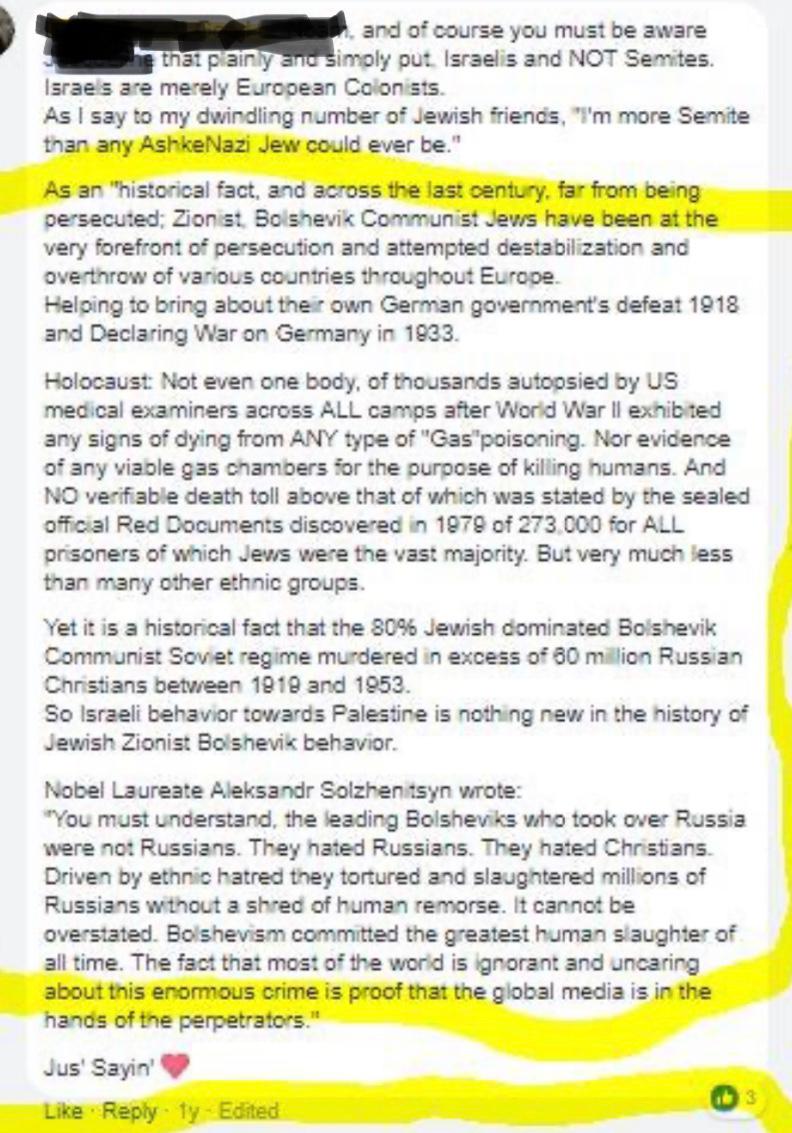 As a Jewish member of the Labour Party, this particular case has deeply troubled me. Why did Matthews and GLU take action against a Jewish peace activist but not a holocaust denier? This question followed me around for more than two years. I am sad and angry at Keir's apology.