when fall starts, but usually on cold days, yoongi and jimin like to stay at home

#yoonminweek2020 #yoonminweek2020_D6
Today's prompt is fall/cold weather, and I wanted to write small drabbles for all of my yoonmins! Basically, you can quote this with one of my aus, and I will write a small drabble in the same scenario: 'it's really cold, and we don't want to leave bed today.'
a thread on how to read my soulmate au because the original thread broke
The first thing Jimin notices when he wakes up is that Yoongi isn't in bed with him. And it's cold. He stretches his arm over Yoongi's side of the bed, groans because it's empty, and then pulls the comforter closer to him. Yesterday night was cold, but today it's gotten worse.
Yoongi is not here for him to cuddle, and he slept without socks, so maybe that's why he's freezing. Jimin is still sleepy, but he can hear Yoongi moving around in the kitchen even if it's a weekend, and Yoongi didn't need to wake up so early. Jimin forces himself to stand up.
He walks out of Yoongi's room, dragging the slippers against the floor even if Yoongi hates it when he does that. "It's freezing!" Jimin complains when he sees his boyfriend's back. Yoongi is making breakfast. He looks over his shoulder and smiles when his gaze falls on Jimin.
"You're exaggerating," Yoongi murmurs. He focuses on his task. Jimin takes a step inside the kitchen. "What are you doing?" "Hot cocoa." Jimin giggles and back hugs him, wrapping his arms around Yoongi's waist and settling his chin on Yoongi's shoulder. "You're cold too."
Jimin glances down to see Yoongi smile. Yoongi settles his hand on top of Jimin's. "Your hands are cold." Jimin pouts. "You should wear something warmer." Jimin is only using a flimsy shirt. "Did you bring a jacket?" Jimin didn't. "Can I wear one of your hoodies?"
Yoongi chuckles. "Whenever you come over, you don't bring anything to cover. You're not sly." Jimin lets go of him. "Isn't the whole point of having a boyfriend, wearing his clothes?" Yoongi snorts. "And have him make hot cocoa for you?" "The whole point," Yoongi repeats.
Jimin hurries to Yoongi's room in search of his favorite black hoodie. He always steals it, but Yoongi asks him to give it back as soon as Jimin returns to his apartment. Jimin plops down on the bed and curls on himself, hugging the hoodie. It's less cold now, but still chilly.
After a while, Yoongi returns with the cups of cocoa. He filled them too much, so he's walking carefully and making a funny face as he struggles for the drink not to slip. Jimin sits up, back pressed to the headboard and legs crossed. He pulls the comforter to cover up.
Yoongi leaves both mugs on the bedside table and then leans down to sip from them without lifting the cups again. Jimin guesses he's very much in love because he finds Yoongi slurping hot cocoa endearing. When he's sure the drink won't spill, he hands it over to Jimin. "Here."
"Thank you," Jimin murmurs. He wraps his hands around the mug because it's hot. He feels even less cold now. Most soulmates move in together as soon as they meet, but Yoongi and Jimin have a slower pace than other soulmates. But days like this convince Jimin to hurry.
He likes having their own space and pace, but if by the end of the week, Jimin tells Yoongi he wants to move in with him, he wouldn't be surprised. Yoongi sits next to him in the bed. "Don't spill on my hoodie," he warns. "That's my favorite." Jimin nods and sips from his drink.
He yelps loudly, Yoongi turns to see him. Jimin moves the mug away, careful not to slip. "Yoongi! I burnt my tongue!" he whines and leaves the mug on the bedside table. "You didn't say it was that hot!" Yoongi lifts a hand to Jimin's nape with a raised eyebrow. "You're a baby."
Jimin juts his lips out and waits for Yoongi to leave his mug next to Jimin's, to curl against him. Yoongi circles his waist and pulls him into a hug. Jimin finds being between Yoongi's arms very comforting. He searches for Yoongi's eyes to dramatically pout at him.
"You missed something when you said what the point of having a boyfriend was," Yoongi says. Jimin only hums. Yoongi closes the distance between them to leave a peck on his lips. "Kisses." Jimin groans in fake disgust. "You're so cheesy!" he laughs but pecks him one more time.
Jimin doesn't feel cold anymore.
YOONMIN AU | COMPULSORY HETEROSEXUALITY Jimin is desperate for a boyfriend now that his best friends are dating and all he does is third wheel for them... unfortunately all his dates are a mess and his hot and very straight next door neighbor Min Yoongi keeps making fun of him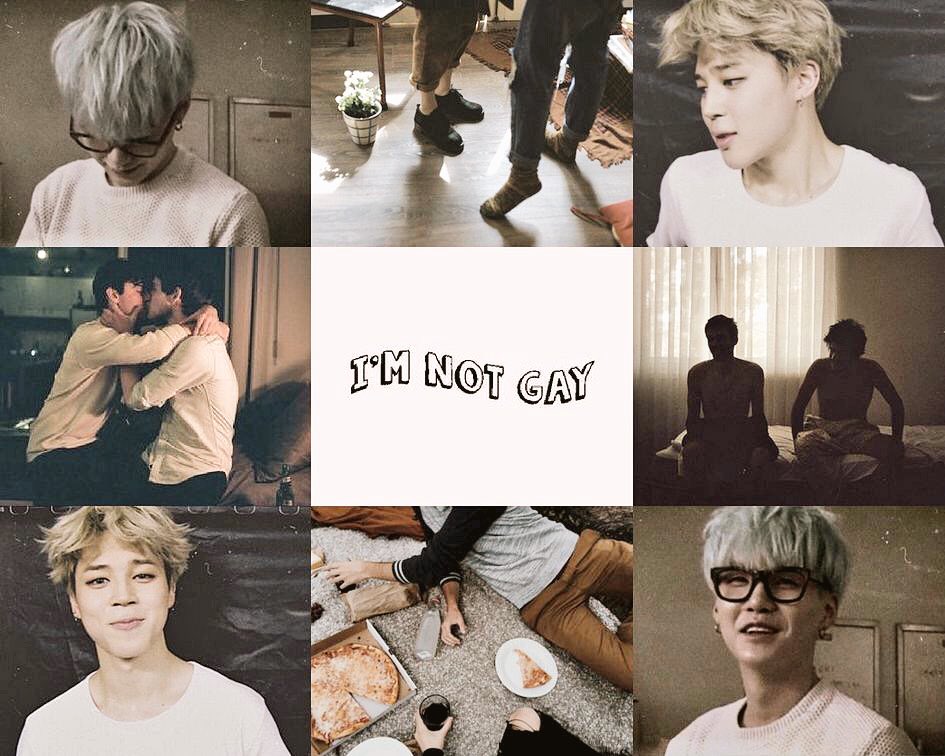 Holly is barking. Small barking that reaches their room. Yoongi is trying to ignore it because he's tired, but Jimin is soon shaking him. "What is he doing? It's so early!" Jimin groans. Holly starts scratching the door. "Yoongi!" Yoongi opens one eye. "He's crazy. Let him be."
Jimin shakes his head and stands up. "He's going to bark more when he sees me. You're his favorite." Holly loves Jimin, but that's not a lie. "It's so cold." Yoongi stares as Jimin walks across the room and opens the door. Holly barks and waddles inside the room, ignoring Jimin.
He tries to climb the bed on Yoongi's side. Yoongi pets his head, ruffling his fur and stretching his ears. "What's up?" Yoongi carries him and settles him on his stomach. Jimin sighs from the door. He's rubbing his arms, trying to keep himself warm. Holly barks and jumps down.
The dog waddles out of the room, and Yoongi and Jimin follow him with their gaze. "I think he's trying to show you something," Jimin decides after a long second. Yoongi looks down and sees wet marks on his shirt. As if Holly's paws were damp. How weird. He stands up.
Jimin doesn't move until Yoongi reaches him by the door. Yoongi lifts a hand to Jimin's lower back and pulls him in for a brief kiss. "Good morning." "Mornin," Jimin mumbles with a smile. They quickly detach from the other and follow after Holly. He's barking in the living room.
"What is it?" Yoongi walks closer. He doesn't take too long to notice the problem. He left the window open yesterday, and it's raining, so the floor under the small part of the window that is open is getting wet. Holly is barking at the weird sensation of rain inside the house.
Yoongi closes the window. "I didn't think it would rain," he complains. Holly stops barking, but he continues to step on the wet floor. Yoongi carries Holly and starts praising him in the smallest voice he can muster. "It's getting colder each day," Jimin comments.
He's walking inside the kitchen, and when he reappears, he brings a mop. Yoongi has noticed it's colder too. "Do you want me to do it?" Yoongi asks. Jimin receives the dog in his arms and gives Yoongi the mop. Holly squirms until he's comfortable, and he can lick Jimin's face.
Jimin tickles Holly's side. "Come to bed when you finish cleaning," Jimin tells Yoongi and turns around. "You don't want breakfast?" "It's too early; I wanna sleep some more," Jimin answers before disappearing inside their room. "It's cold; come cuddle with us!"
When Yoongi returns to the room, Jimin lies on his back, checking his phone, and Holly has curled on Yoongi's side of the bed, leaving him no space. Instead of going to his side, he walks to Jimin and taps his waist. "Scoot over." Jimin leaves his phone and rolls on his side.
Yoongi climbs on the bed, settling behind Jimin. Bakchugging him. The right side of the bed is occupied by Holly curled on himself, and the left side is crowded, with both Yoongi and Jimin spooning as close together as they can to not disturb the dog or fall out of bed.
"Your ears are cold," Yoongi murmurs. Jimin squirms because Yoongi's breath against the back of his skin must be ticklish. He grabs Yoongi's hand. "I think it's time to change the bedspread for the comforter." Yoongi hums. "I'll do it later," Jimin whispers. He sounds sleepy.
Yoongi kisses his nape softly. "Wait- Hug me tighter," Jimin pulls Yoongi's hand to accentuate his request. "I'm freezing, and you're warm." Yoongi complies. They don't have anything to do on the weekend, and Holly woke them up early, so they easily fall asleep like that.
YOONMIN AU soccer team captain Min Yoongi finally has a crush on someone! It's surprising, he has never shown interest in anyone. Park Jimin, the new student is lucky to have the captain's attention but the boy doesn't want anything to do with soccer players, he hates soccer.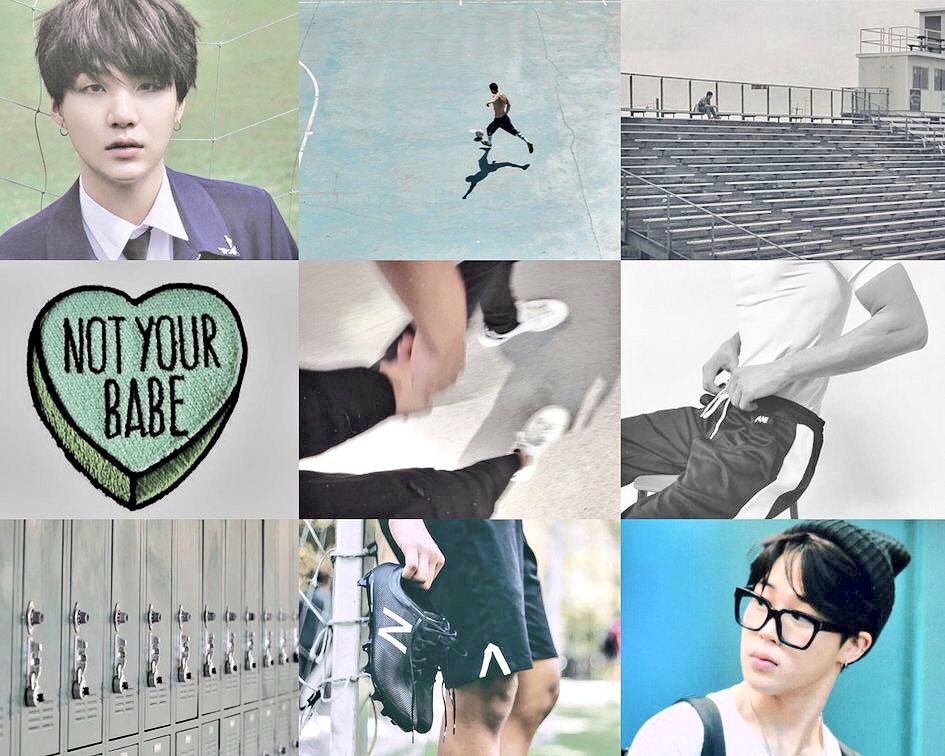 "Go back to sleep," Yoongi groans. He lifts a hand to Jimin's body, wherever it lands, and taps on the skin. "I wanted to make sure the window was close." Jimin is stretching towards the window behind their bed, but he lays down again. "It was closed. It's chilly, isn't it?"
Yoongi makes a low sound from the back of his throat. "Come here." Jimin leans over until he can rest his head on Yoongi's chest and cuddles close to him. Yoongi brings a hand to thread Jimin's hair. He always falls asleep quicker when Yoongi scratches his head.
They should rest as much as possible because Woonyoung is coming over later, and she'll keep them up. Almost as reading his mind, Jimin speaks up, "you should tell Woonyoung to bring something to cover up." "She's a teenager; unlike you, she doesn't feel cold."
"Are you calling me old, Yoongi?" His husband hisses. Yoongi keeps scratching his head. "When we were her age, we would just wear a shirt in the middle of winter and say 'no, I'm not cold.' And now you get chills on the first day of fall," he teases. "You're calling me old."
"We're old together," Yoongi smiles. It probably feels that way because they've known each other since they were children. Now, for Yoongi, fifteen years old is a child. "I think I'm not old. I'm still sexy," Jimin counters. "Yes, you're very sexy," Yoongi agrees.
"Old and sexy," he quickly adds. Jimin gasps, offended. He hits Yoongi's chest, and Yoongi smiles widely. "At what time does she get here?" Jimin rests on top of him again. "For lunch," Yoongi recalls. He stretches in search of his phone. "We still have four or five hours."
"We should sleep. Last time she made fun of us because we got drowsy after drinking wine," Yoongi reminds him. "Oh God, we're old," Jimin whines and buries his face against Yoongi's neck. Yoongi chuckles. "What can I do? It's seriously cold!" Jimin hugs him tighter.
"Do you want me to warm you up?" Yoongi searches for his lips and leaves a small peck. Jimin laughs and pushes himself away from Yoongi. "That sounds so wrong. What do you suggest doing?" Jimin beams at him. "You can't tire me out, though. I need energy for the rest of the day."
Yoongi is about to tease him again, but Jimin points at his face. "Don't even say it." Yoongi lifts a hand to Jimin's face. "We could just make out until she gets here," Yoongi proposes. Jimin giggles. "Okay, but after I shower." Yoongi rolls his eyes. "Then what's the point?"
"I'm trying to get you hot and bothered, so you feel less cold." "It's not working, chubs," Jimin laughs. Yoongi tsks and pulls him down, so they're hugging again. "When we were little, you would jump on me the moment you got the chance too." Jimin hasn't stopped laughing.
"I'm sorry," Jimin squirms in bed until he can leave a peck on Yoongi's lips. "I really want to make out with you." Yoongi squints his eyes. "Yeah?" "But we have to get ready, and if we start kissing, then we'll have to hurry to shower and get everything ready for lunch."
"You sound like an old person." Jimin huffs cutely. He knows Yoongi is right, so he pins both of Yoongi's wrists to the mattress. They look at each other for a long second, with a bright glint in their eyes, until Jimin leans down to catch Yoongi's lips with his.
They kiss slowly as Jimin settles on top of him. It's a familiar and comfortable weight Yoongi wouldn't change for anything in the world. They don't stop kissing, even when Jimin lets go of Yoongi's wrists, and he lowers his hands to Jimin's waist, pulling him impossibly closer.
They won't rest much after this, but it's worthy. "You're all warm now?" Yoongi murmurs against Jimin's lips. Boping their noses together. Jimin giggles when he nods. "Don't stop; we still have some hours, right?" his husband asks. Yoongi smiles when he flips Jimin on his back.
yoonmin au— jimin's father warned him about the cons of moving back to his grandfather's house to open a veterinary hospital in his hometown. however, he didn't warn him about wounded werewolves breaking in at the veterinary after midnight in search of dog medicine.
It's raining. Jimin wakes up because he can hear the raindrops hitting the window. It's seriously cold, so he presses himself closer to Yoongi. His mate is still sleeping, but he unconsciously shifts enough for Jimin to settle near his neck. Yoongi is strangely warm.
And Jimin doesn't think it's because of the knitted blanket covering them. He trails his fingers over his naked chest; it's the middle of fall, and Yoongi still goes to bed shirtless. Then, he nibbles and kisses Yoongi's mating mark, and that's finally when Yoongi stirs.
"What are you doing?" he asks. His voice is rough and hoarse. He moves his hand to Jimin's nape, squeezing slightly. "I have two questions," Jimin says. "A curious little wolf this early in the morning," Yoongi smirks. Jimin smiles when Yoongi closes his eyes again. "Tell me."
"The sound of the rain against the windows doesn't bother you?" Jimin had woken up first, even if Yoongi is more sensitive to noises. He scrunches his nose. "No. I like the rain. It's lulling." Jimin hums; he guesses that makes sense because Yoongi used to live in nature.
"I see. And you're not cold?" Jimin wonders. "I'm freezing right now." Yoongi opens his eyes because Jimin made a whining sound. He seems worried. "No, it's warm." They stare at each other. "Maybe it's a werewolf thing, and you feel less cold than humans do," Jimin suggests.
"Humans are fragile," Yoongi complains. He pulls Jimin for a hug. "Don't sound too upset," Jimin chuckles. "It must be because of your wolf fur, so even when you're not in wolf form, you keep yourself warm," he tries to understand the logic behind the difference in temperature.
"I feel even less cold in wolf form," Yoongi admits. "Maybe it's just because you have a different metabolism than humans," Jimin thinks out loud. "Since you have the ability to shift- there are many possibilities." Yoongi is staring at him. "Wolves are cozy," Yoongi proposes.
Jimin giggles. "Yes, they are. Very very cozy," he says and hugs Yoongi tighter. Yoongi must have meant wolves with their furs, but Jimin thinks his mate is warm and cozy. "You're still cold?" Yoongi rubs Jimin's back with his hand. "You're keeping me warm," Jimin admits.
"If you're still cold, I could shift," Yoongi suggests. "My fur is warmer." "But if you do, I can't look at your pretty face," Jimin complains. "And if you just shift here in our room. You'll knock everything in your way." Yoongi frowns. "That's a lie. I can be careful."
"But if I shift, Jungkook will probably want to shift too, and the house is too small for two wolves," Yoongi adds. Jimin giggles just thinking of two wolves in the middle of the apartment. "That doesn't seem like a good idea. But cuddling with you in wolf form sounds nice."
"I'm gonna do it," Yoongi sits up. Jimin laughs at his enthusiasm. "I'm not that cold! Babe, I'm not that cold," Jimin pulls him down on the bed again. "But I'll keep it in mind for a day. I'm freezing and in need of a fluffy hug." Yoongi blinks at him and then nods.
"Right now, I'm good with just hugging you," Jimin explains and curls against his mate. "You're warm." Yoongi brings his hand to Jimin's nape again, scratching the back of his head. Jimin closes his eyes because it feels nice. "Let's just stay here for a little while."
"For as long as you want," Yoongi murmurs.
yoonmin au— yoongi manages to take a break from all the work he has to do at his company to go to his son's recital for father's day at his kindergarten. yoongi finds himself a little flustered when he sees his son's teacher on stage with the kids, dressed up as a yellow puppy.
Yoongi is woken up by his son climbing on the bed, messily crawling on top of him. Yoongi could swear he locked the door yesterday, but his baby is suddenly here. He turns to find Jimin standing. "He was knocking on the door," Jimin explains before laying on the bed again.
Yoongi grabs his son's middle. "Careful," he says. "Say hi to daddy." "Hi," Beomgyu mimics. He throws his arms around Yoongi's neck and kisses his cheek. But he soon focuses on Jimin. Yoongi doesn't blame him. "It's so cold, hyung," Beomgyu wraps his arms around Jimin.
He hugs Jimin tightly. "I know," Jimin murmurs. "Your nose and cheeks are so red! Do you want to get under the covers with us?" Beomgyu nods quickly, and Jimin helps him push the covers down so he can settle between the couple. Yoongi only watches his family with amusement.
Yesterday, they didn't have a sleepover with Gyu because they are gradually letting go of that tradition, so Beomgyu can grow less attached to Yoongi. Still, neither Yoongi nor Jimin can say no to morning cuddles when Beomgyu is especially clingy. "I'm hungry," he says.
Jimin and Yoongi look at each other, but before Yoongi can stand up, Beomgyu grabs his hand. "But I don't want daddy to go, and I don't want hyung to go," Beomgyu admits his troubles. "Now that's an issue," Jimin chuckles. "If you're hungry, we all have to go to the kitchen."
"I'm not hungry anymore," Beomgyu decides. "Are you sure?" Jimin tickles his tummy. Beomgyu giggles, but he nods, intent on convincing both of them. Yoongi lifts his finger to his son's cheek in a soft caress. "What are you craving? I'll go and bring it here," Yoongi says.
"Really, daddy?" Beomgyu can't believe what he's hearing. Breakfast in bed one day doesn't seem bad when it's so cold, and it's so cozy with Jimin and his son cuddling in bed. Plus, Yoongi has a tendency to spoil Beomgyu. "Yes. Jiminie can say what he wants, too," Yoongi adds.
Jimin looks at Yoongi before breaking into a smile. "Daddy is going to spoil us," Jimin whispers to Beomgyu. Yoongi rolls his eyes. "What do you want, Gyu?" Beomgyu beams. "There's still cake from hyung's birthday?" Yoongi squints his eyes. "But that's Jiminie's cake."
"He can have a slice," Jimin cuts in. Beomgyu celebrates with a tiny shake of his fists and hugs Jimin tighter. That's how Jimin is slowly becoming Beomgyu's favorite. "I want a slice too." Yoongi nods. "You want milk like the baby too?" Yoongi teases his boyfriend.
Jimin doesn't budge at his joke. "I want a glass of water and something warm. What are you having? Coffee?" Yoongi nods. "I want the same... but add milk to my coffee." Beomgyu looks between them as they interact. Yoongi leaves a kiss on Gyu's forehead and stands up. "Sure."
When Yoongi returns, Jimin and Gyu are lying on their backs, whispering to each other. Beomgyu is asking Jimin if he has breakfast in bed in his house too. Weeks ago, Beomgyu was shocked to find out Jimin didn't live in the school but shared an apartment with a friend.
"No, breakfast in bed is something very special. It doesn't happen often." "We should have had breakfast in bed for your birthday," Beomgyu whispers, but then he notices Yoongi is in the room. "Daddy," he sits up and shrieks. "Can I have breakfast in bed for my birthday?"
Yoongi struggles to leave the tray on the corner of the bed. "Do you need help?" Jimin wonders as he sits up; he gestures Beomgyu to sit between his legs, so he doesn't get anything dirty. "No, just keep him there." Yoongi hands Beomgyu a plate with cake. "Daddy, my question."
"Yes, we can have breakfast in bed." He gives Beomgyu a napkin and a spoon. "With cake too?" Beomgyu begins eating after his question. Yoongi hums. "Here," he hands Jimin a plate too. Yoongi bought the cake and organized a surprise with Taehyung for Jimin's birthday.
"Come here, sit with us," Jimin taps next to him. Yoongi leaves Jimin's glass and mug on the floor beside Jimin and his own mug and Beomgyu's cup on his bedside table. He finally climbs on the bed. "It's freezing, right?" Yoongi asks. He's drinking from his coffee.
Beomgyu is making a mess of himself, chocolate sprawled over his cheeks and corner of his mouth. Jimin cleans him before Yoongi can say anything. He probably saw Yoongi glance Beomgyu's way. "Eat slower, baby," Jimin scolds. Yoongi doesn't know how he did this before Jimin.
"Yes, it's so cold," Jimin answers once Beomgyu's face doesn't have any chocolate stain. "We should stay here after breakfast. In bed." "We can watch a movie," Beomgyu sounds excited. He carefully puts the plate down on the mattress and turns to Yoongi. "Daddy, milk, please."
Yoongi hands him his cup. He watches Gyu gulp and gulp and waits for him to give Yoongi the cup once he's full. "Thank you," he says. "Yes, we can stay in bed." Yoongi ruffles Beomgyu's hair. "In pajamas." His son seems to like the idea a lot. Jimin is nodding too.
When they finish, Jimin collects everything. "I'll go clean," he announces. "No, no, you don't have to," Yoongi tries to stop him, but Jimin looks sternly at him and collects the mugs and plates on the tray. "Come back, Jiminie," Yoongi pleads. "Hyung," Beomgyu whines too.
"Don't do that," Jimin points at both of them. "I'm weak for both of you; stop with the puppy eyes. I'll go clean and help him brush his teeth," Jimin is not easily swayed. Yoongi groans, but he stands up with Gyu. Before Jimin can reach the door, Yoongi catches up to him.
He has Gyu's small hand wrapped with his, and his other hand in Jimin's waist. Yoongi leans over for a quick peck, but Jimin surprises him when he returns for another soft kiss. When he sees Jimin biting his lower lip not to break into a smile, Yoongi lets go of him.
"We'll be waiting in bed!" Yoongi calls out. Jimin hums. When Yoongi helps Beomgyu clean his hands, his son meets his eyes in the bathroom mirror. "Daddy likes kissing hyung a lot." Yoongi chuckles. "Yes, daddy likes it a lot." Beomgyu doesn't ask anything else. He just smiles.
YOONMIN CLICHÉ AU | OPPOSITES ATTRACT Since shy Yoongi doesn't know how to act around his crush his best friends suggest he gets guidance from their roommate, party animal Jimin. But Yoongi isn't fond of people too different from him and how can someone like Jimin even help him?
Jimin's pink hair is fading. Yoongi notices that when he wakes up in bed with Jimin. He can see the black roots, and the pink has gone from a hot color to a lighter one. He thinks it still fits Jimin. But it's probably because Jimin is beautiful and anything fits him.
Any color, any clothing, style, song, dance, and any dance. He could date someone loud or someone quiet like Yoongi, and just because it's him, it seems like it makes sense, and everything suits him. "You need to quit staring," Jimin says. Yoongi hadn't noticed he was awake.
"I'm sorry," he apologizes. He's embarrassed and looks away quickly. They've been dating for a while now, but he still blushes. "You don't have to get shy," Jimin laughs. He pulls Yoongi closer. "I know you're admiring the view." "Yes," Yoongi won't pretend like he wasn't.
Jimin giggles. "Come here," Jimin pulls him into a hug. Yoongi lets himself be dragged, and he settles between Jimin's arms. "It's cold, isn't it?" Jimin points out. "It is," Yoongi agrees. "I like cold, though. It's nice." Jimin shakes his head. "I hate cold."
"I like summer. The sun on my face and wearing light clothes." Yoongi snorts. "You're the epitome of a summer person," he lifts a hand to Jimin's hair. "Whereas I'm the perfect example of a winter person. I'm not surprised we like the opposite." Jimin smiles at him.
"But it's fall right now," Jimin reminds him. "We're like... in the in-between," he explains. "Like you and me." "You've woken up pretty romantic from your nap." Yoongi will pretend he wasn't thinking romantic thoughts while he watched Jimin sleep. "When am I not a romantic?"
"Fair point," Yoongi chuckles. Jimin smiles and leans for a kiss. "You're still tired? You wanted to go out today." "It's so cold, I just wanna stay with you here," he murmurs. Yoongi loves to hear that. Because he doesn't like going out and because he likes being with Jimin.
"Let's stay," Yoongi says. They're in Yoongi's room, and Jimin came over in the morning but fell asleep because he had gone out yesterday night with Hoseok. "I like it here," Jimin murmurs. Cuddled together. Yoongi likes it too; he whispers that sentiment against Jimin's skin.
"You might not like the cold, but I think fall fits you," Yoongi says. He thinks anything fits Jimin, but he has an argument here. "Yeah? I like fall clothing; I look good in coats, don't I?" Yoongi smiles. "You do. But I meant your aura. Your vibes." "My vibe?" Jimin snorts.
"Isn't my vibe summer-like? I'm a party person." "You are, but also, you're warm and cozy, and I like the fall, and I like you." Jimin laughs and falls over until his forehead hits Yoongi's shoulder. "Isn't the fall kind of mystical?" "Mystical?" "Magical," Jimin tries.
Yoongi hums. "You know what's magical?" Yoongi knows exactly what is, but he still looks for the answer in Jimin's eyes. "How whenever you hold me like this, and talk to me like this, under this light filtering through the curtains, I hear a song." Yoongi closes his eyes.
"Tell me what do you hear," Yoongi murmurs. Jimin hums a little and then trails his fingers up Yoongi's arm. "Have you heard the Bulgarian symphony orchestra?" Yoongi snorts. He has. Jimin always comes up with good stuff. "Let me guess which one. I colori di dicembre."
Jimin giggles. "How did you know it was that one?" "Because I know you." Jimin presses his forehead against Yoongi's. "Because when it's this cold, and you look this beautiful, and when I'm with you, I hear it too." Jimin grins. "And you accuse me of being the romantic one."
"I guess we're one and the same in that aspect."