ynjvn can always tell when his cat hybrid sbn is approaching his heat. sbn's heats tend to be pretty irregular, so he tends to miss when his symptoms start, but thankfully he has ynjvn to help him. cw // kitty sbn , heats , smut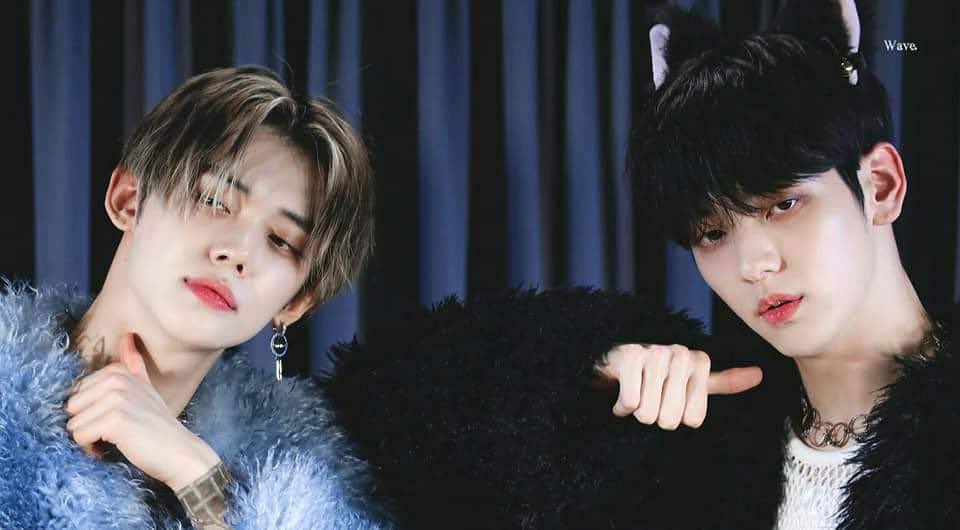 ynjvn isn't quite sure why sbn doesn't have his heat as often as other hybrids, maybe bcs he grew up malnourished, maybe bcs he's a bigger breed, it could be anything. his heart aches when he thinks about how sbn must've spent his heats before meeting ynjvn. alone and scared.
after sbn's first heat since living together, ynjvn made sure to research a little. the cramps during sbn's pre-heat seemed to have caused him to most discomfort at the start of his cycle, so ynjvn bought heat pads. he knows sbn doesn't want to be alone during his heat, so ynjvn+
took a couple days off work to be with him all the time. he prepared enough food and water, made sure to prepare some of his clothes for sbn to steal in case he wanted ynjvn's scent on his skin. he just wanted sbn to feel comfortable, wanted to take care of him like he deserved.
sbn's next heat comes a little sooner than ynjvn expected. the first sign is sbn becoming unusually clingy. the moment ynjvn comes home from work, sbn has his arms around him, head pressed against his neck. "oh, did my kitty miss me?" when sbn replies with a mere whine, ynjvn+
knows something is different. the whole evening sbn clings to ynjvn, doesn't let him take a single step without him. and although it's slightly inconvenient, ynjvn gladly lets him. he somehow manages to cook them dinner and when sbn refuses to eat, ynjvn offers to feed him.
sbn shakes his head, mouth turned into a frown. "don't want to eat, hurts." now it's ynjvn's turn to frown. "what hurts? your tummy?" if sbn's cramps have started already then his heat is progressing faster than usual. as if on cue, sbn lets out a whine and presses himself+
closer to ynjvn. it sounds like he's in pain and ynjvn's heart sinks. so much for being prepared. "okay, baby. i know it hurts, but you have to eat a little, alright? for me." ynjvn manages to convince sbn to swallow a few bites and then he makes him get comfortable on the couch+
while he goes to fetch the heat pads and a few more blankets and pillows. they should probably move to the bed, but sbn doesn't want to sleep yet. he seems strangely agitated and ynjvn doesn't want to make it worse. it takes them a while to settle down comfortably, sbn snuggled+
up against ynjvn, one step away from sitting on his lap. ynjvn has his hand in sbn's hair, gently massaging his scalp, smiling a little to himself when he sees sbn's fizzy ears twitch. his cramps seem to have gotten better and ynjvn is relieved. while sbn is dozing off, ynjvn+
aimlessly scrolls on his phone, trying to kill some time until sbn needs him again. and not even after an hour, sbn tenses up against him, another whine escaping. ynjvn doesn't think sbn is quite awake yet, so he simply starts stroking over sbn's back, hoping to soothe him+
somehow. sbn starts squirming around in his sleep and after a little while he seems to start rutting his hips against ynjvn's leg. ynjvn grimaces. it seems that sbn's heat really is progressing faster than usual and he begins to worry. he just hopes he'll be able to help sbn get+
through it smoothly. gently scratching over sbn's back, ynjvn attempts to wake him up. sbn does so with a startle and then he looks at ynjvn with wide eyes. he's quiet for a second and then he lets out a gasp, lifting his butt from the couch just slightly. his mouth hangs open+
and he looks embarrassed. ynjvn isn't quite sure what happened but he reaches out to cup sbn's cheeks, gently stroking over them with his thumb. "talk to me, kitten." sbn whines and averts his eyes, cheeks steadily reddening. ynjvn can feel the warmth radiating from them and he+
smiles a little, hoping to comfort sbn a little. "it's … i'm wet." sbn's voice is quiet and ynjvn can tell that he's really embarrassed. sbn gets wet all the time when they're intimate but now during his heat, he's just wet on his own. ynjvn remembers how surprised he was last+
time, seeing the amount of slick leaking out of the hybrid. he shudders a little, the mere thought of it making him dizzy. as much as he wants to take care of sbn, he also just really can't wait to fuck him. "i know, baby. no need to be embarrassed, i like it when you're this+
wet. all for me." now it's sbn who shudders and then ynjvn is tackled to the couch, sbn on top of him. ynjvn allows it and lets sbn kiss him. they both moan into the kiss, sbn kissing ynjvn with such an intensity that ynjvn almost can't breathe. sbn's hand seems to try+
and grab everywhere he can reach and it doesn't take long before he starts rutting against ynjvn again. ynjvn can feel that sbn is already painfully hard and reaches down to grab at sbn's butt, pressing their crotches together. sbn gasps into the kiss and starts moving with more+
urgency. ynjvn breaks away from the kiss, attempting to tell sbn that they should move to the bedroom, but sbn kisses him again, not wanting to part. ynjvn has to pinch a spot on sbn's nape to get his attention and when sbn goes slack for a second, ynjvn rolls them over, smiling+
down at sbn. "not here, kitten." — ynjvn doesn't think he'll ever get tired of seeing sbn naked under him. sbn's whole body is flushed, skin covered in a sheen layer of sweat. sbn's hands are fisted into the sheets as ynjvn's moves his lips from his neck down towards his chest.
ynjvn doesn't know if it because of sbn's heat, but his chest seems a little swollen and ynjvn is obsessed. he squeezes it with both hands, pushing the skin together. sbn's breath hitches as ynjvn's places his lips around a swollen nipple, sucking on it while swiping his thumb+
over the other. sbn moans and then a hand is in ynjvn's hair, tugging on the ends. he gently bites into sbn's nipple in response before he leans up a little to look at sbn. the hybrid looks completely wrecked already, mouth hanging open and hair tousled. ynjvn thinks he looks+
absolutely beautiful. he smoothes a hand down sbn's stomach, scratching lightly on the skin, a smirk forming when he feels sbn twitch. "look at you, kitten. barely touched you and you're already like this." ynjvn's hand moves further down until he can wrap it around sbn's cock,+
which is already fully hard and leaking. sbn bucks up his hips at the touch and ynjvn clicks his tongue, shaking his head. "patience, baby. you're so needy." sbn just nods, bucking his hips up again. "please, please…" normally, ynjvn would tease sbn a little, make him beg, but+
today, he takes pity on the poor boy. he can take his time again once sbn's heat has settled a little. as he begins stroking sbn's cock, he moves his other hand between sbn's legs, momentarily stunned at just how wet the hybrid is. ynjvn's fingers are immediately soaked and+
he lifts his hand up to his eyes, marveling at the amount of slick that's gathered there. "jvn, stop looking at it." sbn looks embarrassed, but ynjvn just chuckles. "how can i not look? when you're so wet for me?" he brings his fingers to his lips and licks the slick from them+
eyes never leaving sbn's. a shiver runs through sbn's and his legs clamp around ynjvn's hips. "ynjvn, please." sbn's fuzzy ears twitch and ynjvn decides to take pity on him, moving his hand back between sbn's legs and pressing a finger against his hole. sbn responds with a whine+
pushing his ass back against ynjvn's finger immediately. the first finger goes in easily enough, sbn's heat is making him loose and the slick is more than enough to make the slide easy. ynjvn quickly lets a second and third finger join and soon he's thrusting his fingers into+
sbn at a steady pace. sbn is squirming underneath him, hair sweaty and matted against his forehead while his eyes are squeezed shut. ynjvn can tell from the way sbn's body begins to tense up that the other his close and then with a few more strokes over sbn's cock, sbn throws+
his head back with a loud moan and spills over ynjvn's hand and his own abdomen. ynjvn never stops moving either of his hands, helping sbn through his orgasm, only stopping when sbn starts twitching from being overstimulated. ynjvn leans down to press a kiss against sbn's chest,+
lingering for a moment as he waits for him to calm down. ynjvn knows it won't be long until sbn needs him again, the heat making him insatiable. and as if on cue, sbn lets out a whine as his hips buck up once more. "ynjvn, please … fuck me."
and yes, ynjvn really wants to do that. he quickly makes work of undressing himself completely and then moves back in between sbn's legs. he takes a moment to look down at sbn while stroking his cock. he can't wait. it seems as if sbn shivers under his gaze, spreading his legs+
further, exposing himself even more to ynjvn. ynjvn is momentarily taken aback. despite being obviously needy, sbn looks so vulnerable and ynjvn can't help but lean down to kiss his lips. "i'm going to take good care of you, okay?" sbn whines quietly against ynjvn's lips, hands+
coming up to rest on ynjvn's shoulders. "i know, you always do." ynjvn smiles and then reaches down between their bodies to position his cock against sbn's hole. sbn's breath hitches and he tenses for a second. ynjvn knows that as much as sbn wants ynjvn to fuck him, he's still+
nervous. he always guessed it was because of how sbn had spent his heats before ynjvn, but he never wanted to talk about it and ynjvn didn't ask. ynjvn knows sbn just needs a little more reassurance and ynjvn is more than willing to give it to him. as often as he wants. kissing+
sbn once more, he smiles. "i love you, kitten." and that's all sbn needs to relax. he nods and offers ynjvn a smile as well. and then ynjvn slowly starts pushing inside sbn, moaning quietly at the feeling. the amount of slick makes it easy for ynjvn and there's barely any+
resistance. as soon as ynjvn's hips meet sbn's as, the hybrid wraps his legs around him, caging ynjvn in. ynjvn chuckles quietly and waits for another moment before he starts moving. they both moan at the same time and soon ynjvn is thrusting into sbn at a steady pace. sbn's+
fingernails are pressed into ynjvn's skin and his mouth is hanging open, letting out little gasps and moans almost continuously. "jvn, more, please i…" sbn's voice cracks and ynjvn can tell he's beginning to lose himself in his heat. he snaps his hips harder into the hybrid,+
placing one of his hands on sbn's waist for more leverage. sbn's moans grow louder with each passing second and when ynjvn thrusts into him at a certain angle, his fingernails drag down ynjvn's arms almost painfully. he moans so loud that ynjvn is sure he has to apologize to+
their neighbors later. right now, he doesn't really care though, the sounds sbn makes too beautiful for him to pay attention to anything else. "ah, you're so pretty like this, kitten. completely wrecked by me." sbn sobs, pressing his head back into the pillows. his thighs begin+
to tense and ynjvn can tell he's close once more. "are you gonna cum for me, baby? can you do it for me again?" ynjvn is close himself, being on edge ever since watching sbn's first orgasm. but he wants sbn to cum first, he really wants to see it again. maybe seeing sbn's face+
when he cums is his favorite thing to see. it's something he's committed to his memory forever. "please, i …" sbn is starting to ramble, his words interrupted by his sobs. ynjvn knows sbn needs a little more help, so he reaches for sbn's cock and starts stroking it to match his+
thrusts. "jvn, i…" sbn's whole body tenses up and then he's cumming a second time, once again spilling all over himself. ynjvn moans at how tight sbn suddenly feels around him but he never stops thrusting. sbn starts whining underneath him, but ynjvn knows sbn doesn't want him+
to stop now. "i'm gonna fill you up, kitten. gonna pump you full, okay?" sbn nods almost frantically, legs tightening around ynjvn's hips to keep him close. ynjvn only needs a couple more thrusts before pressing himself deeply inside sbn as he cums, a groan leaving him as he+
cums inside sbn. he lets his head fall against sbn's neck, panting heavily. sbn's arms wrap around him and they stay still for a little longer. ynjvn presses a kiss against sbn's neck, attempting to move but sbn stops him. "please, can we stay like this?"
and who is ynjvn to say no to that? he kisses sbn once more, smiling sbn looks satisfied and that's all that matters. it's all ynjvn wants.