220922 #YUTAatHome translation thread ⠀ NCT 127 ユウタのYUTA at Home | interfm | 2022/09/22 radiko.jp/share/?sid=INT…
Stream on Radiko! twitter.com/SQUADNYT/statu…
A #TUTORIAL TO LISTEN TO YUTA'S RADIO
2021
TIME OF BROADCAST : EVERY THURSDAY AT 9PM TO 9:30 PM JST (interfm) #YUTA897 #YUTA #YutaAtHome #유타 #中本悠太 @NCT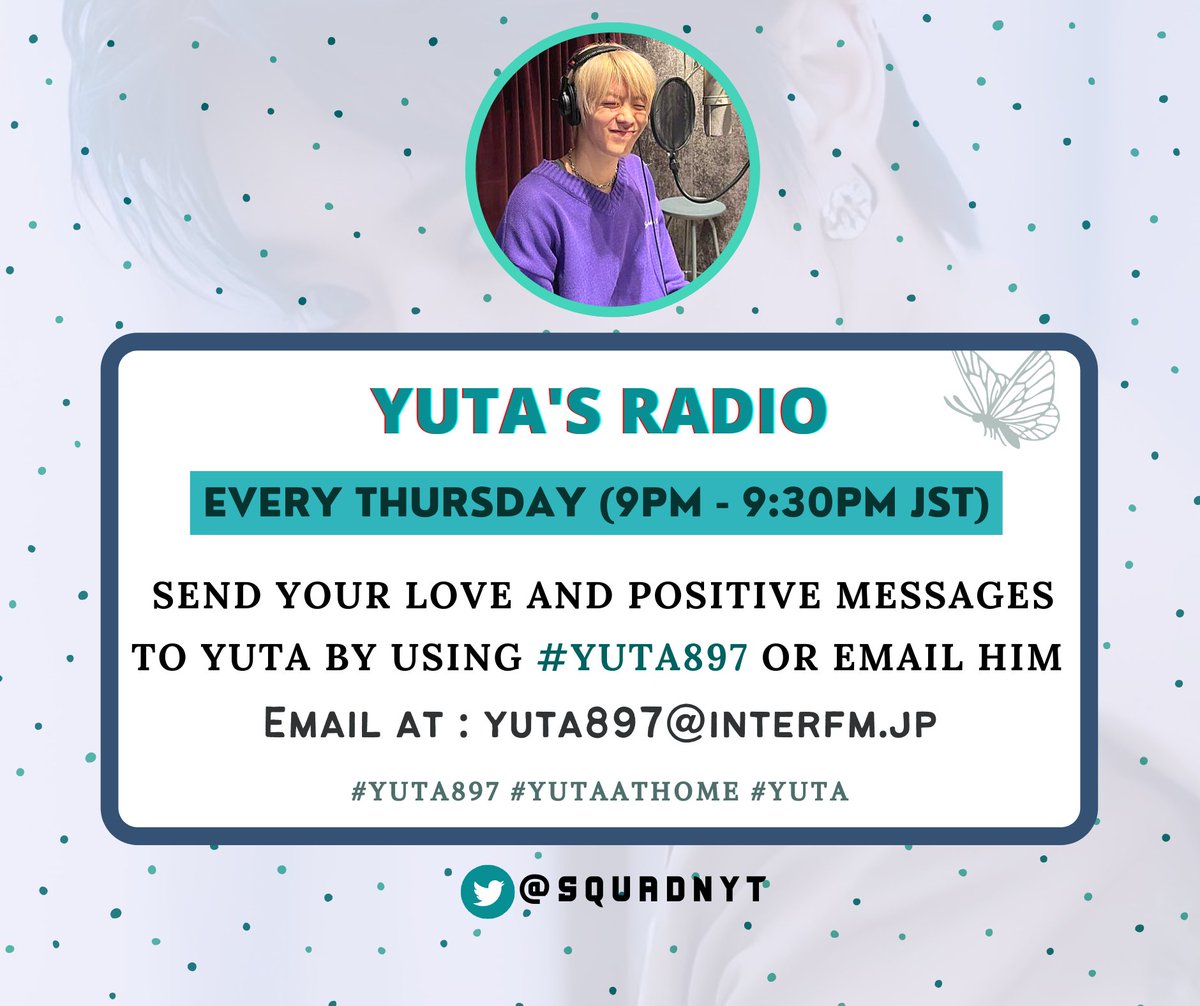 Show this thread
Yuta said their 4th album is finally OUT and said yeah. He knows many people have been waiting for it as they did the same so they worked hard preparing for it. He's relieved that the album is in our hands now. They'll be doing more promotions, so he asked for our support.
♪ 2 Baddies / NCT 127 #YUTAatHome youtu.be/FRilMXZqNhA
[Yuta X Disney Plus] Yuta's pick this week is Disney Pixar's "Lightyear." It's about how Buzz from Toy Story was born. A space ranger Buzz got stuck in space and he tries to get his friends to go home.
Yuta said "The album is finally out! Yeah~ Hoo~" The title 2 baddies is a hip hop song very much like NCT 127. Since he listened to the demo, he's been saying it could even top Kick It with the boys. He's going to introduce 5 songs off the album with keywords.
"Challenge" He challenged himself with 2 baddies, but also he wants us to listen to it when we want to try new things and shake off our fears. The song is about going full speed and it sings that only those who run not giving up can accomplish. He recommended listening to it +
before our important things and it'll lift your spirit up.
"Power" The song that gives you power is Vitamin, as the title suggests. It sings about being a vitamin in someone's life and giving them power. The chorus repeats vitamin (Yuta sang a bit) and it's pop and addictive and he thinks it'll give you power.
"Chill" The song that makes you chill/calm down is Gold Dust. He said this is Doyoung's favorite. He heard that the KR title "yoonseul" means the sun sparkling on the surface of a puddle after the rain. The melody is calming. It's R&B and it's the only relaxing song on the album.
"Trip" The song that makes you daydream away from everyday life is Crash Landing. The concept is that crash landing somewhere unknown with someone you like. It's easy to listen to and he recommends it when you want to daydream.
"Reset" The song that makes him reminds of the spirit of when he started off is LOL. The song tells you to just laugh out loud. He said it's about how we sometimes fail and feel down, but we can move forward with the people we have. +
He hopes we listen to it with the people we care about. He introduced bits of the songs but he'd be happy if we can listen to the full album. He asked for our thoughts on the album.
♪ Faster / NCT 127 #YUTAatHome
OP watched SMT in Japan and asked Yuta which song he'd like to cover if he were to perform it in SMT. Yuta said he had fun for 3 days in Tokyo. He didn't think he can perform Resonance again and was really happy to see members like Ten he practiced together since trainee days. +
He has many songs he wants to cover but he likes L'arc en Ciel. He wants to do something loud like putting on lots of makeup.
A 63 yo Czennie became a fan 3 yrs ago and went to the High&Low event where Yuta sang OST. She said Suzaki acts cool but has sadness and kindness? within and he wasn't Yuta but Suzaki. She also mentioned the way Suzaki undid his buttons before the fight was sexy. +
Yuta said H&L is still in the theaters. Working in H&L made him want to try other roles too. He's glad his first acting job was fun. He heard many people say he did a good job and it made him happy. He wasn't sure how well he did, he just trusted the director and others. +
About the button scene, the director and Yuta talked about Suzaki like how he'd have black hair, he'd wear simple accessories not like others. At first he had his buttons open all the time, but the director said Suzaki has firm principles so he'd undo buttons just during fights.+
He heard many people say it was sexy, (he said "Well I didn't mean it to be"), but he's happy with the results.
This OP said Czennies are neo creatures bc we think of members when we see watermelons, peaches, and cherries. She asked Yuta if he has something that reminds him of certain things. He said walking in Anguk Dong with sunsets makes him feel nostalgic, reminds him of his childhood.
♪ Time Lapse / NCT 127 #YUTAatHome
Yuta asked how the show was. He asked us to send in our stories related to sports. He wrapped up with the usual ending ment, said bye bye at the very end and it's over! and today's outro was Black Clouds!
Thank you for tuning in and please excuse any errors and typos. I haven't finished last week's episode yet but will upload it as soon as I can~ Have a happy 127 comeback weekend everyone!