What is the basic difference between the R&D business of HCl technology than with the companies like Tata elxsi and LTTS? The answer is for HCl technology it's a part of their total business but for Tata elxsi and LTTS, this is their solo business.(1/n)
Coming up with a thread
in the afternoon. Keep your alarm clock ticking.
Again what is the difference between rajratan global wire Ltd business to than of tata Steel? Bead wire manufactured by tata Steel is a part of their whole business. But for rajratan global wire it's their niche business. (2/n)
Now you know why a tata elxsi or a rajratan global wire Ltd has gotten so much attention from Mr market! Likewise today's topic of discussion is also working in its niche segment. Yesterday night I received this dm from one of my friends. (3/n)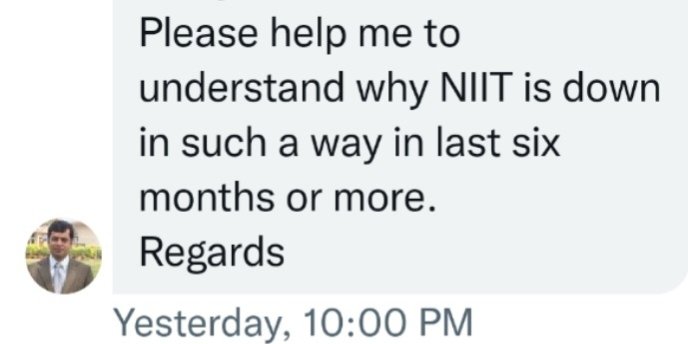 He was distressed and invested in a company which is being dragged regarding its price for the last 2 quarters or so. That lead to write me this short thread
on NIIT Ltd. I shall keep it very simple as I don't realise complexity.(4/n)
Edtech is a very difficult business to be profitable, NIIT Ltd is an exception to the rule. Companies worldwide train their employees according to their needs. It may be for the freshers or when they change their policies or for reshaping the employees. (5/n)
Now most of the companies worldwide go for a training institute for this in which NIIT Ltd is one of the market leaders worldwide and ONLY one listed in the stock market in India. Could you get the similarity between the business model of rajratan global wire and NIIT?(6/n)
Before investing,the most important thing is to look after management integrity and honesty. Now, once they sold one of their business segments and distributed 67% of Money amongst shareholders. Can you name 20 such Indian companies at present that have done it in the past? (7/n)
Please comment below
. This shows the management inclination towards shareholders. Let us discuss its business segments. Once NIIT Ltd had 3 segments of businesses of which the school business was loss making and capital intensive which NIIT Ltd had stopped in 2019. (8/n)
The remaining 2 segments are SKILLS AND CAREER GROUPS (SNC) BUSINESS AND CORPORATE LEARNING(CLG) ARE THEIR MAJOR BUSINESSES NOW. Corporate learning business (CLG business) points to note: Cumulative revenue visibility. Increasing revenues or not. Ebidta margin increases or not.
Scaling of the CLG business: THESIS POINTERS: NIIT Ltd is continuously helping their clients to transform their fixed cost to variable cost which every business likes. No headache for corporates. Highly sticky business. Long term contracts. Size of opportunities: (10/n)
Less than 25% companies are outsourcing now. Huge growth opportunities. The number of clients is increasing year by year for NIIT Ltd consistently. Role playing like a drama or a real problem solving during training makes it more interactive and interesting. (11/n)
They are into mainly banking and NBFC and IT companies. Recently they are entering into the pharma and lifesciences sector. Present customers for example: Dell SAP Bank of America MetLife Standard chartered Shell GSK Sanofi British petroleum Unilever etc.
#niit
(12/n)
SNC BUSINESS:. ONLY 10% OF PROFIT COMES FOR HERE. They are going absolutely from physical to online in coming years. 2 main types of training NIIT Ltd provides through this segment. 1. Stack route(like from backend to frontend) and 2. T pass . (13/n)
This is difficult to understand business for me as a layman. The next thing I would like to discuss is how NIIT Ltd has become a special situation INVESTING. They are demerging these 2 BUSINESSES. These 2 businesses are getting demerged. CLG business will be standalone (14/n)
and this is the special situation created here. Points to note post demerger for CLG business: high revenue visibility. Ebidta margin is very High. They may grow inorganically. All these playing or not. May be a specialist like
@Neil Bahal
may help us. (15/n)
NOW WHY NIIT LTD SHARE PRICE IS FALLING CONTINUOUSLY? RISK:: OR ANTITHESIS pointers:: 1. North America recession (PEOPLE use training as a discretionary income that means in excess of Roti, Kapda and makaan) As long as the recession is there they won't spend money for (16/n)
training with NIIT Ltd. Major ANTITHESIS. UK inflation: PEOPLE use training as a discretionary income that means in excess of Roti, Kapda and makaan. As long as inflation is there they won't spend money for training with NIIT Ltd. Major ANTITHESIS. (17/n)
Price may go more downward if ANTITHESIS pointers continue to Play longer. Thanks for your time
. NIIT Ltd,not any recommendation for educational purposes only.