Gov. Brian Kemp spoke at a hate group's anti-choice summit last week. Kemp only mentioned his extreme 6-week abortion ban ONCE in his speech — in the past, he bragged about passing the "toughest abortion ban in the nation." 3 main reasons why Kemp is now avoiding it.
: Gov. Biran Kemp knows his extreme 6-week abortion ban is unpopular with voters. An @Atlanta Journal-Constitution poll from July shows opposition from: 54% of all voters 58% of women 62% of independents ajc.com/politics/ajc-p…
: It's mobilizing and energizing pro-choice voters — especially women — which will cost GOP candidates votes. The number of Georgia women requesting mail ballots has already risen from 2020. Here's a breakdown from @Tom Bonier, CEO of @TargetSmart: twitter.com/tbonier/status…
In Georgia, 37% of the mail ballot requests have come from Black voters, and 60% from women. In 2020, 30% of mail ballots were cast by Black voters, 56% by women.
Show this thread
And in Georgia, women make up a larger share of voters than in most other states — consistently accounting for at least 55% of ballots cast in recent elections. twitter.com/tbonier/status…
Take Georgia - women already account for a larger share of the electorate than in almost any other state. Look at the recent elections in the state: women have consistently accounted for no less than 55% of ballots cast!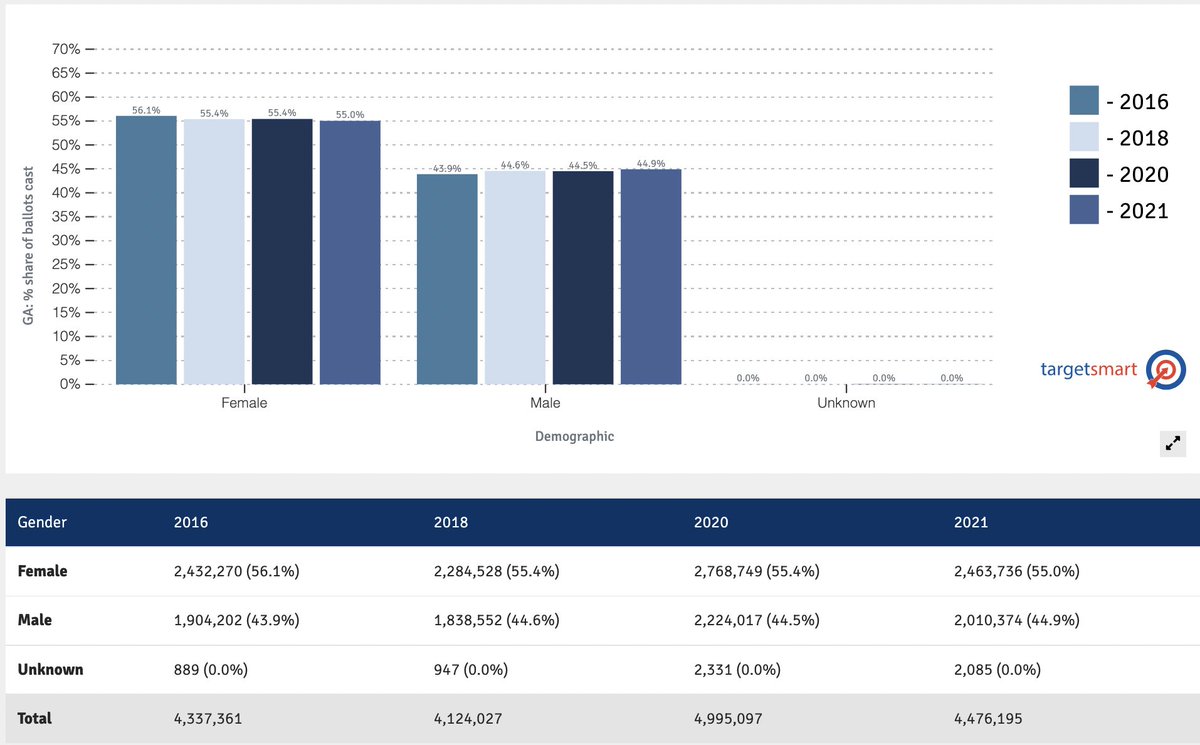 Show this thread
: Gov. Kemp knows talking about his dangerous abortion ban reveals his extremism on the issue. Kemp is against exceptions for victims of rape and incest — a wildly out-of-touch position that he knows will alienate a significant portion of voters.
Kemp knows that campaigning on his extreme aboriton ban will also raise awareness on his comments that surfaced last week, where Kemp stated his openness to banning emergency contraception. wjcl.com/article/does-g…
Here's a thread with Georgia legislators' reactions to Kemp's comments on banning contraception.
twitter.com/MaxFlugrath/st…
This morning, Georgia lawmakers held a press conference on Gov. Brian Kemp's recent comments opening the door to banning contraception if he's re-elected. THREAD.
Show this thread
We can't let Gov. Brian Kemp dodge his extreme position on aboriton. Please share this widely to help spread the word on his exremism. Kemp is against exceptions for victims of rape & incest, and open to banning contraception — if re-elected, Georgia women's rights are at risk.