#yoonminau

where when a wolf presents as an alpha they are gifted with the mark of Luna - sigils of moon phases inked into their skin. The location of the marks varies but one thing stays the same - the amount of moons and their sizes signify the strength of the alpha and their -
- connection with the Goddess Luna. The Min pack has never had an alpha with more than 3 moon sigils… but what happens when a rogue wolf turns up with 5 large moons running down the length of his spine and the alpha asks to claim the pack leader's omega son who is already -
Tags -
a/b/o
omega Yoongi
alpha Jimin
fated mates
fighting, wolf shifting
courting
pack dynamics
blood
arranged marriage kinda
scenting
nesting
mating bites
smut
possible mpreg
more tags may be added while ongoing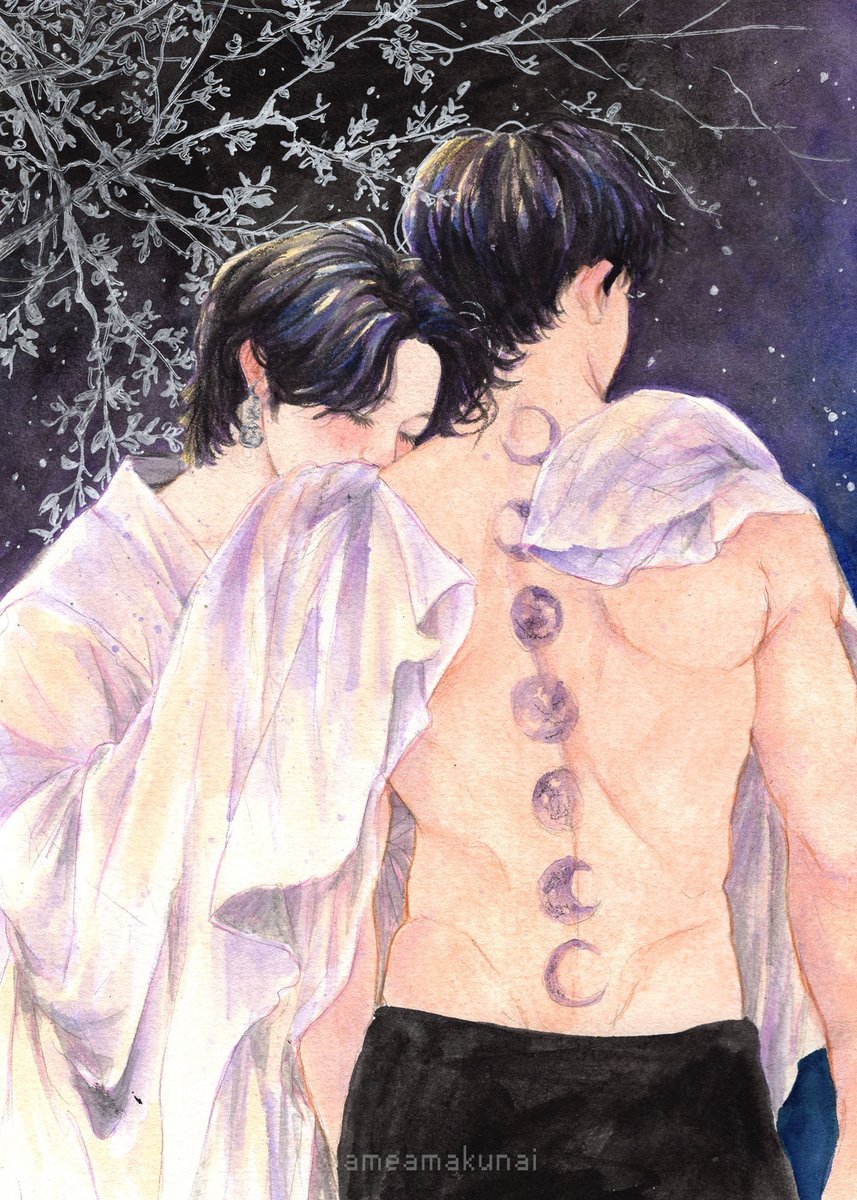 The moon is full, its pale light glimmering across the surface of the lake as the large wolf leisurely laps at the water. He needs it after the long trek through the forest. He knows he's getting closer, he can smell it. Sickly sweet like tangerines. His mate. -
- Luna guides him, his inner alpha following the trail for miles, taking him far away from his birth-land. Not that there is anything left for him there. His pack moved on whereas he didn't, his wolf was directing him another way. Jimin didn't know why at first, not until he -
- got the first hint of tangy citrus wafting through his lungs. He longs for it. He knows that the omega that scent belongs to is his mate. The wolf that is fated for him. Now, even though Jimin knows that they are destined to be together, it doesn't mean that he's not -
- prepared to court the omega. His future mate deserves the very best after all. Dawn is starting to break as he reaches the edge of the forest, the trees thinning and the fog lessening. He can see the tendrils of smoke coming from chimneys where the fires must be lit in order -
- to keep the pack warm. Small wooden shacks can be seen in the distance in a small clearing. The alpha can smell it so strongly now. The sweet hints of tangerine, the slight sour tang of citrus blended with sugar like honey. He can practically taste it on his tongue. His mate.
-
-
-
-
-
-
"Yoongi-ya ~" The voice rings out through the small wooden hut as a curly haired man bangs harshly on the door, "Yoongi-ya, you need to get up, you can't avoid him anymore, you know your heat is due soon!" The sleepy omega just grumbles in his nest, muttering something about -
- 'stupid knothead alphas' and their 'stupidly strong scents'. Yoongi was sick of it already. He knew that as the omega son of the pack alpha that it's his duty to mate an alpha of a nearby pack in order to create security and safety amongst the packs. It's the way that it has -
- always been. But he's never liked the idea of mating an alpha of whom he has no connection with. His mother always said it was her fault for instilling his head with stories about fated mates and Luna's gifts. But Yoongi didn't think it was just that. He's met his intended -
- mate and he feels nothing for the alpha. In fact, the strong peppermint scent of the wolf made him feel slightly ill - he couldn't imagine wearing that scent for the rest of his life. Yoongi has always had a sensitive nose, even as a pup. None of the alpha's he's met since -
- presenting have been favourable. All of them just smelling too overpowering, too much for the omega to bear in large doses. The first time he got a hint of an alpha in rut he had simply lost his breakfast so fast that his mother had had to call for the doctor. Yoongi sighs. -
- Today he will have to endure another meeting with his future mate. Kim Minseok wasn't too bad for a spoiled pack alphas son. He was tolerable to an extent (that extent being up to an hour before Yoongi gets fed up with the constant 'I'm superior because I'm an alpha' bullshit)-
- The alpha is meant to be courting him, giving him gifts and spending time together in order to attract the omega to him. Yet the more time Yoongi spends with the man, the more he grows to dislike him. Yoongi knows that he could call off this mating if he really wanted to -
- but he also knows that it could cause unwanted displeasure within the Forest packs. The last thing Yoongi wants is a war just because he can't endure the presence of one bone-headed alpha. The only person that knows about his troubles is his elder brother Seokjin. Seokjin -
- was lucky enough to be born a beta - not having to abide by any of the stupid alpha and omega bullshit that Yoongi can get sick of sometimes. It's not that he doesn't believe in Luna, he does, very strongly in fact. It's just that sometimes it can be stressful to abide by so -
- many rules and be expected to fulfil the goal just because he was unlucky enough to be born an omega. An omega. A wolf blessed with the gift of bearing pups. Gifting the pack with life and love. Omegas are strong, given the strength to carry a pup, often multiple at once, -
- for 10 months before giving birth. They are familial and protective. Many packs have lost this thought. They forget the importance of omegas and see them as subservient to alphas just because their biological bodies tend to be weaker. Yoongi feels lucky that he doesn't live -
- in such a pack… but he's not too sure about his betrothed's pack… "MIN YOONGI GET UP BEFORE I DRAG YOU OUT OF THERE MYSELF," Seokjin's voice is thunderous as he hammers on the wooden door more aggressively - Yoongi wouldn't be surprised if the beta broke the hinges one day.-
- "I'm up, stop abusing my door you brute," the omega grumbles, shuffling out of the pile of furs before pulling on a loose tunic and pants. His hair is a mess of curls as he pulls the door open and scowls at his elder brother. -
- "I'm so sorry that you think sleeping is more important than spending time with your future mate," Seokjin jests, snorting in response to Yoongi's nose wrinkling in disgust. -
- "Please, let me live in my fantasy world just a little bit longer where I'm not betrothed to an alpha who thinks that any less than 10 pups is a small family," Yoongi groans. Even Seokjin cringes, their parents having 4 children was enough. Their younger brothers are still a -
- handful, Taehyung being boisterous for a beta and Jungkook having just presented as an alpha - too many hormones running free in his system for anyone's liking. -
- Seokjin sighs as they both sit down at the small table, the elder placing a small basket upon its surface before pulling out two steaming pots of porridge. -
- "Maybe it's time to start praying to Luna for that alpha to choke on a rabbit leg," the elder jests, trying to lighten the mood. Yoongi snorts, taking one of the bowls and starting to eat. It sounds stupid but he has been praying. Every night before bed, he lights a candle -
- and prays to Luna for her to not let him be mated by an alpha who means nothing. He wants to feel that connection, both through his wolf and his mind. He wants love, passion, anything will be better than what he currently has with Minseok. -
- They finish their breakfast quickly, Seokjin pulling out a tangerine from the basket and handing it to Yoongi while rolling his eyes exaggeratedly. He has always loved the fruit since he was little. There is an inside joke amongst their family as to whether his omega scent is -
- because he ate so many growing up or whether he loves them because his wolf knew what his scent would be. Yoongi just counts himself lucky that he got a fruity scent instead of some of the overwhelming floral ones. -
- He eats the fruit quickly, feeding his pouty brother a couple of segments before pulling on an overcoat and some boots, pulling his hair into some semblance of an order and leaving the hut to make his way to the courtship site - joys.
-
-
-
-
-
-
"The alphas in my bloodline are known to produce mainly alpha pups, you know, less weakness in the family…" Kim Minseok drones on, by now Yoongi has learned how to block out his annoying voice - unfortunately the same cannot be said for the alphas scent. -
- The omega is 5 minutes into thinking about which of his brothers will be the victim of his next fur thievery when suddenly a loud howl can be heard echoing around the forest. All of the wolves in the pack stand to attention, many of the larger alphas instantly shifting as -
- the warning howl repeats itself. An intruder. The pack gathers at the edge of the settlement, awaiting and prepared for whoever could be traipsing so close to their territory. Yoongi stands near the back, next to his mother and the other omegas, the children kept close to -
- them. They all wait. It's eerily quiet, even their wolf hearing struggling to pick up on the sounds of movement from beyond the treeline. But eventually they hear it. The soft movement of paws against the dirt, footprints imprinting into the mud as a dark figure approaches -
- them. A black wolf. The wolf isn't overly large in size but it's obvious that it's strong. The black fur is glossy, well groomed and slightly fluffy where it is starting to grow its winter coat. Dark brown eyes seem to glimmer in the early morning light as the wolf -
- approaches the pack. The black figure bows its head in respect, indicating to the pack that it means no harm. It's like the packs collectively held breath is released as they all relax. It's not that they're not prepared for a threat, it's just that everyone would prefer -
- not to deal with one. Yoongi's father, the pack alpha, moves towards the unknown wolf while in his own shifted form, bowing in return. The greeting is pleasant and when Alpha Min nods his head an alpha steps forward with two sets of pants, ready for both the pack alpha and -
- the unknown wolf to shift back into their human forms. The sounds of bones cracking and the occasional grunt of discomfort can be heard as they shift back, but that doesn't bother Yoongi, he's too focussed on what he can smell. As the wind rustles through the trees it also -
- swoops past the unknown wolf, bringing with it a scent that Yoongi has never had the pleasure to smell before. Deep sandalwood is the main scent, mixed with hints of cinnamon, the slight spice tingling Yoongi's nose but also… other areas. Yoongi gasps. He has never reacted -
- this way to a scent before. He doesn't even think as he pushes through the crowd, the bodies of his pack mates moving out of the way confusedly as the omega makes his way to the front. When he gets there, he stops dead still. -
- Golden eyes lock with his own unknowingly blue ones. The unknown wolf stands frozen as they just stare. It feels like hours as Yoongi takes in the sight. The alpha has dark brown hair that curls slightly at the ends as it falls like a curtain around his face. Shapely eyebrows -
- sit above almond shaped eyes, the irises glowing their alpha gold. His eyes are kind, not harsh like most alphas that Yoongi has met before. The alpha has a small nose and slightly plump cheeks - they look like they would be fun to squish. Plush lips shine on his face, his -
- mouth open in a look of awe as he looks back at the omega. Yoongi tries not to blush as his eyes take in the alpha's toned torso, his abdominal muscles rather apparent as well as his biceps and pecs. But there is still a softness to his body that Yoongi finds his omega -
- wanting to cling to. Fuck. Who is this man? Yoongi doesn't even realise how he's reacting, the way his body is heating up and slick is starting to drip. He's too entranced. "Alpha…" -
- The whole pack gasps as the word falls from Yoongi's mouth before an almighty growl rings out through the crowd and Kim Minseok shifts into his wolf form before pouncing between Yoongi and the unknown alpha. -
- "Minseok, enough." Alpha Min's voice booms through the clearing, the authoritative alpha tone having the rest of the pack bowing in submission. Minseok looks at the elder alpha, almost as if he's calculating the risk of not listening to him, before shifting back - seemingly -
- not caring about his nudity. Yoongi tries not to let his disgust show but the quirked eyebrow that the unknown alpha gives him is an indication that he failed. "Don't look at my mate," Minseok snarls, his scent spiking and filling Yoongi's nostrils with the overpowering -
- smell of peppermint. He feels queasy, an instant headache hitting him at how overwhelming it is. "I see no mating bite." The unknown alpha's voice is smooth, not as deep as Yoongi would expect, but soft, even as he is blunt when addressing the peppermint alpha. -
- "We are betrothed!" Minseok growls, taking a step closer to Yoongi, the omega instinctively moving away. "Betrothal means nothing to Luna, until your claim is upon the beautiful omegas neck-," the alpha locks eyes with Yoongi yet again and Yoongi can't help but squirm and -
- blush at the praise, "- he remains unmated and free to choose whomever his wolf desires." Minseok lets out another growl, but before he can speak, Alpha Min steps in. "You are correct, my son has no mate currently, only a courtship of which he can choose to end or complete -
- with a mating ceremony," Minseok practically glares at the Pack Alpha, unaware of the unfavourable way the rest of the pack are currently looking at him. The Alpha then turns to the unknown wolf. "What is your name and why have you come here?" -
- The wolf bows towards his elder again before speaking; "Forgive me Pack Leader, I am Park Jimin of the Mountain Pack." A gasp rings out through the pack as mumbles of how far the alpha must have travelled are uttered. -
- "I have travelled with Luna as my guide in search of my fated one-," Jimin turns his head and locks eyes with Yoongi yet again as he continues to speak, "-and I believe I have found them." More gasps ring out, accompanied by a low growl from Minseok, as Jimin looks back at -
- the Pack Alpha. "Am I correct to assume that you believe that my son is your fated mate? An instance that is rare and almost unspoken of in our time?" Alpha Min's tone isn't unkind, merely cautious and inquisitive. -
- "If your son is the omega who smells like the sweetest, honeyed citrus, then yes." The clearing goes silent before being interrupted yet again by the irritating sound of Minseok. -
- "How dare you come here and try to claim my mate!? The decision has already been made, we don't have time for your bullshit. Everyone knows that fated mates aren't real, all of this Luna crap wouldn't be tolerated in my pack." The whole pack is visibly enraged by Miseok's -
- words, doubting Luna is an act punishable by desertion, but it's Jimin who speaks up before anyone else. "Wolves who lose touch with Luna shouldn't even be considered wolves. You are merely a human who can take the shape of a wolf. Luna is there to guide us, she is inside -
- each and every one of us in the form of alpha, beta or omega, and all wolves are to be treated with the same respect. Packs who have lost touch with Luna have also lost touch with these beliefs and are run by alphas who believe themselves to be superior when they are not. -
- You're no wolf, you're nothing but a pup with an attitude problem." "Why you-" Minseok lunges before anyone can stop him, changing into wolf form mid leap. Luckily Jimin is already one step ahead as the alpha transforms once again into the black wolf. The difference in -
- strength between the two beasts is obvious as Jimin pins the larger grey wolf below him at record speed. Not even a spec of blood needs to be shed. "SHIFT. BOTH OF YOU." The Pack Leaders voice rings out in command and the wolves shift instantly. But no one's expecting to -
- see Jimin's bare back as he stands over the other alpha, facing away from the crowd and towards the treeline. The pack all fall to their knees in an instant as they look at the tanned flesh and the sigils marking his skin. Yoongi can barely breathe as he looks at the 5 moons -
- tracing the path of the alphas spine, showing various phases of the moon. Five. Five moons. It is said that during an alphas presentation at the age of 18, Luna bestows each of them with a litany of moons. The area on the body is not consistent, hence Jungkook's 3 moons on -
- his forearm, but the amount, and size, is a symbol of the alphas strength and linkage to the Goddess Luna. Three moons is the most that the packs of the forest have ever seen, usually bestowed to future Pack Leaders. Five moons is a blessing. Five moons means that the alpha -
- in front of them has been chosen by Luna herself. Yoongi feels weak. This alpha, this blessed alpha, wants him. His wolf already feels it deep inside that this alpha is his mate. Is this Luna? Did she finally hear all of his prayers? -
- "Please, may I borrow some more clothes, I wish to talk to my future mate for the first time and want him to be comfortable as I do so," Jimin's voice takes on a softer tone as he addresses Pack Alpha Min. The Pack Leader nods to the same alpha as before and the man shyly -
- hands Jimin another pair of pants. Once suitably clothed, Jimin turns around and turns his attention back to Yoongi. Yoongi feels weak instantly. His breath hitches as the alpha's eyes flash gold as he approaches. His wolf is screaming at him to also move, get closer, close -
- the gap between them and finally sink into the arms of his alpha, but all he can manage is to rise to his feet again. Yoongi never knew it would feel this strong, the urge, the need, the want. Jimin stops an arms length away from the omega before holding out his hand, palm -
- up. "May I scent you?" Yoongi blushes a deep red, he's never felt so shy in his life. He's not known for being loud, but he is opinionated - winey as Seokjin likes to say. He gives a small nod and places his own hand, with his inner wrist facing up, on top of the alphas. -
-Jimin uses his other hand to gently rub their inner wrists together, leaving a small scent mark - the first stage of courtship. Yoongi gasps as he feels tingles rush through his body, closing his eyes as he feels lightheaded and can't help the small whine that leaves his lips.-
- "Omega, open your eyes." Yoongi listens, and when he does, he's met by Jimin's own gaze. Except his eyes are no longer their alpha gold, no, instead they shine a bright silver. They're a perfect imitation of the moon and its beauty. -
- The Min Pack watches in awe as both alpha and omega share the legend that is the Fated Mates Moonshine eyes. It's proof enough to the pack that Jimin is indeed telling the truth about Yoongi being his fated mate. -
- "What is your name, my omega,"Jimin rumbles out, the alpha lost in his future mate's eyes. "Y-yoongi," the omegas voice croaks slightly, "Min Yoongi." "It's a pleasure to meet you Min Yoongi."
-
-
-
-
-
-
Help me choose what happens next
don't be fooled kekeke
-
-
-
-
-
-
His mothers comforting sweet pear scent surrounds him as Yoongi snuggles deeper into the family nest. He doesn't often nest with his parents anymore, choosing to either be alone or having one or multiple of his brothers sneaking into his nest. Jungkook is the worst for it, he's -
- always been clingy - even as a pup - it makes sense seeing as he presented as an alpha. Alpha's are most calm around omegas scents due to their pheromones. "How do you feel, my little orange blossom?" Yoongi's mother purrs out affectionately, stroking a hand through the -
- young omegas hair as he curls up into her and buries his face in her neck. "Mm," Yoongi grunts out, "My wolf is being so loud, like, Kookie and Tae arguing over the last chicken leg levels of loud." The Pack Omega chuckles at her sons way with words before placing a soft -
- kiss on the top of his head and speaking into the locks of dark hair - "Your father and I may not have been fated, but I know what you mean. When your omega finds a compatible alpha it's like everything in you is fighting to be with them. I can't imagine how strong that -
- feeling must be for you my dear, but try to embrace it. Let yourself feel that warmth that your wolf feels when thinking about your alpha." Yoongi just sighs, his mind a mess as he tries to think logically about everything that has happened. -
- After their first meeting, Yoongi's father had addressed Jimin and was very open about the fact that it isn't so simple for them to be together and that the other forest packs will have to be consulted. The arranged mating between Yoongi and Minseok was discussed as a way to -
- unite two packs and dissolve any discrepancies that there may be. To suddenly refuse to this mating could cause problems amongst the packs. Unfortunately not all packs have the same beliefs. Although they all follow Luna, some have lost their path more than others. Just -
- seeing Jimin's moon sigils and the fated bond between him and Yoongi may not be enough. Everything in Yoongi just wants to scream. He knows that either way he will have the last choice as to who he mates. But at the same time, does he really? Would he ever choose to put his -
- pack in danger? But also what is the risk of going against Luna's wishes? He can't help the way his scent thickens and sours as his distress makes itself aware. A louder, lower pitched whine comes from across the room as the hut door opens and swiftly closes before another -
- body suddenly curls up behind him. The smell of gentle pine and petrichor floods Yoongi's senses and he can't help but purr as Jungkook snuggles in close to him. "I'm glad that alpha showed up, Minseok is a knothead," the young alpha grumbles. -
- "Jungkook! None of that! Minseok is the son of a Pack Alpha and should be treated with respect," their mother scolds, but only before muttering out a quiet, "I would like to name my broom respect as I hit him with it." -
- The pups snigger at their mothers comment. It wasn't a well kept secret that Min Seojun has a distaste for her son's betrothed. The differences between their packs and the alphas' mannerisms just never sat right with her. -
- "Your father will sort everything out, but what matters most to us is your happiness Yoongi-ya," She uses a gentle hand to tip Yoongi's head up by the chin in order to look him in the eyes as she speaks, "only make a choice if both you and your wolf agree on it, understand?" -
- "Yes Eomma, I understand."
-
-
-
-
-
-
The air is tense as the 7 Forest Pack Leaders stare each other down in the meeting hall. Packs Min, Kim, Lee, Jung, Kang, Wang, and Yun had all been called to discuss the matter, the Leaders of each pack as well as a few of their members. The mixed scents of angry alphas was -
- strong. Strong enough that the attending Pack Omegas had left, not wanting to deal with the Alpha nonsense. "We had a deal Min, do you want to risk the peace of the Packs over the lies of some rogue alpha?" Alpha Kim's growl vibrates through the room, his son standing smugly -
- behind him. "You can't possibly expect us to believe in some fantasy crap about 'fated mates'," Alpha Kang joins in, spitting out the words with distaste. "Precisely! The feral alpha probably heard about your pack's weakness when it comes to myths about Luna and decided to -
try and gain power through it," Alpha Yun scoffs, earning a few snorts of laughter from the Kim, Kang and Lee Packs. "I bet that stupid omega accidentally got himself pupped and has managed to convince a nobody alpha to pull this stunt," Alpha Lee sneers, earning a snarl and -
- growls of anger from the Min Pack. "ENOUGH." A calm yet stern voice quietens the room, garnering a mixture of expressions. "Where is this alpha? We should meet him." Jung Hoseok's voice announces. -
- Hoseok, the leader of the Jung Pack, is not like the other pack alphas - the main difference being that he isn't an alpha at all, but an omega. The first omega Pack leader in eons after his parents tragically died when a wave of sickness hit the pack, leaving Hoseok to lead -
- the pack and raise his younger siblings. At just 19, freshly presented, he took over the pack with the support of his people and Luna to guide them. Since then the pack has flourished. Many of the other packs look down on him due to his status, believing that he should find -
- an alpha mate and allow them to lead the pack because obviously an omega shouldn't have that much responsibility. "Yes, there is also one more thing I must show you…" The meeting room door opens, revealing the rogue alpha, a cape of furs draped over his strong shoulders. -
- Jimin enters the room gracefully, ignoring the disapproving looks from over half of its inhabitants. He makes his way to the middle of the discussion before falling to his knees in front of Pack Leader Min and bowing in respect. "Alpha Min, you requested my presence." -
- "Remove your furs my boy, it seems some people don't have trust in the Min Pack," Alpha Min says haughtily, giving a small smile when Jimin looks up and meets his eyes. "Yes, Alpha Min." The whole room seems to freeze as the furs are discarded to reveal Jimin's naked flesh, -
- showing to the rest of the forest Packs the 5 moon phases decorating his spine. Every wolf knows what the sigils signify. Every wolf knows the power behind the wolf now kneeling in front of them. And yet, some wolves are too stupid for their own good. -
- "This changes nothing!" Alpha Kim's voice is not as secure as before but he still continues, "We made a deal Min, your omega son and my alpha son, they will be mated under the next full moon and that's final." A loud growl rings out through the room, deep and guttural, -
- before Jimin rises and turns to the Kim Pack Alpha. "The decision is not yours, or Pack Alpha Min's, or even mine. It is Yoongi's. He is not a possession you own, he is a wolf. A wolf with Luna inside of him who will guide him to the decision he desires." The dark haired -
- alpha spits out, eyes flashing gold in his anger. "I agree," Omega Jung speaks up, bowing his head in respect when Jimin looks his way, earning a small smile from the alpha. "I also agree, my son has the ability to choose his own fate," a few other alphas nod in agreement, -
- most of them still staring at Jimin in bewilderment. "However, I understand that we made a deal Alpha Kim, and your son will be granted the ability to continue courting my own. However, it does not mean that other wolves may not also be able to initiate courtship." -
- The room rumbles with a mixture of reactions. "Omegas within our pack are allowed to be courted by multiple wolves, it is only fair that the same treatment is given to my son." "Courted by multiple alphas like a common whore?!" Alpha Kim exasperates, throwing his hands up -
- dramatically. Jimin steps into the man's space, grabbing the cloth of his tunic and yanking him until they are nose to nose. "Disrespect my future mate one more time, I dare you," the rogue alpha's voice is dangerously calm as spice radiates out of his scent in warning, eyes -
- flashing gold in anger. "ENOUGH," Hoseok's voice rings out for the second time, the omega having had enough with the alpha theatrics. "Alpha Min proposes a fair plan that respects both his agreement with the packs and his son's decision to choose his future mate. If Luna -
- wishes for the omega to mate with this alpha, then we shouldn't interfere." The Min, Jung and Wang Packs all nod in agreement as the others all grimace but agree. "We have 2 weeks until the next full moon, my son will make his decision then."
-
-
-
-
-
-
"Father, how could you agree to that! The Min boy is mine!" The elder turns, grabbing his son roughly by the hair and yanking him close enough to hear the quiet words spoken -
- "That stupid omega will be yours, along with the rest of his pack, don't you worry. In two weeks time it will be you putting a pup in his womb, I'll make sure of it."
-
-
-
-
-
-
"Yoongi-ya," Yoongi grumbles at the noise, snuggling further into the warmth of his surroundings, "Come on sweetheart, your Appa is home." The younger omega startles, now fully awake as he scrambles in the furs to prop himself up to look around the now dark hut to see his -
- father. The elder alpha sits at the table, a mug of herbal tea steaming between his hands. Without the impressive furs settled on his shoulders, Alpha Min just looks like your usual wolf, maybe even softer than most alphas. But there is a grimace decorating his face which -
- doesn't belong there. "Appa, what happened?" Yoongi scurries out of the nest and takes the seat next to his father, reaching out to lightly rub their wrists together in a gentle scenting. The elder gives him a small smile as he takes the omegas hand in his own, brushing his -
- calloused thumb over the delicate knuckles. "A few of the packs aren't too happy about the turn of events but we came to the agreement that the alpha can court you-" A rush of pure joy runs through Yoongi's body at the thought of the handsome alpha trying to win him over. -
- His wolf is already smitten and he knows it won't be long before his heart is the same. "-however, Minseok will also continue to court you." Yoongi freezes. What? But why would it even matter when his fated mate is in the picture? "But why?" -
- "Yoongi-ya, you have to understand. Not all of the forest packs are like our own. They have strayed further from Luna's path and no longer believe that fated mates exist. I believe they see your alpha as a threat. However, the choice is still yours, as it always has been." -
- Choice? What choice? If he chooses Jimin then he risks an outright war between packs. But if he chooses Minseok, he knows that he will be miserable for the rest of his life. And Jimin… Jimin travelled all this way to find him. This isn't fair! "I understand Appa." -
- The look on his fathers face is pained, like he can see the internal battle that Yoongi is struggling to fight. Yoongi knows that this isn't easy for his father either, he has the duty to protect the pack from all dangers. Yoongi stands up and bows his head towards his -
- parents before swiftly leaving their hut, ignoring the calls of his mother about it being late. He makes it out of the door before the first tear falls down his cheek, the droplet shimmering under the light of the crescent moon. He runs. Making it back to his hut in order to -
- throw his clothing inside before shifting into his wolf form - his fur a mixture of shades of grey with the occasional patch of brown from his mothers heritage. His eyes shine a bright blue as he runs through the village and out into the forest. -
- The air is cold as it whips through the omegas fur, causing shivers to ripple through his body as he keeps moving. Running in his shifted form has always been a comfort for Yoongi, it's when he feels most connected to Luna. He can almost feel the power of the moons shine as -
- it beams down at him. The ground beneath his paws is the only thing tethering him to the earth, reminding him of who he is. The rhythmic movements of his muscles lets him feel the burn of overexertion as he keeps going, jumping over fallen branches, ducking beneath bushes. -
- He feels so free. It's 30 minutes later that he starts to tire, his whole body aching as he slows down and makes his way to a nearby stream. The water is cold on his tongue as he leisurely laps at the flowing stream. It's relaxing, the quiet night, the only sounds being that -
- of crickets and the occasional owl. It's cool, but not too cold, autumn just starting to take over from the late summer heat. Yoongi stares down at the water and contemplates for a few minutes before stepping into the cold stream. -
- The stones are smooth under the pads of his feet and the water leaves a chill as it meanders past his paws, soaking into the fur of his legs as he reaches further and deeper into the stream. The water reaches his stomach but he keeps going, walking into a deeper section until -
- his feet leave the ground and he starts to swim. The cold water feels good against his heated skin, washing away the sweat from the vigorous run. He paddles a bit before diving down, feeling the water fill his ears and letting himself just be fully submerged, allowing him to -
- clear his mind of all thoughts but the rushing water around him. He watches the fish swim amongst the reeds, keeping their distance from the large predator now invading their water. He resurfaces once his lungs start screaming at him for more air, swimming to the shallower -
- part of the stream and shaking his head to clear his ears. It's only once the water is gone that he hears the quiet sound of lapping water. He turns and visibly startles. A black wolf. A very familiar black wolf stands at the edge of the stream, watching him as it laps up -
- the water. Yoongi doesn't know what to do. He's alone with the alpha, without anyone there to supervise. The saturated scent of sandalwood and cinnamon wafts through the air, filling Yoongi's lungs until he has to hold in a needy whimper. Alpha. -
- The black wolf suddenly moves, backing away from the stream before stepping behind a tree. The sound of bones cracking and a low grunt echo around the forest before Yoongi notices a hand reaching over a branch, pulling at a bunch of material. The omega now notices they are -
- clothes, tucked away in the tree, away from the dirt of the forest floor and the water. More rustling can be heard before the alpha steps out from behind the tree, now wearing some basic cotton trousers and a tunic. "I didn't mean to disturb you," Jimin's voice is soft as he -
- addresses Yoongi, a look of pure wonder on his face as he takes in the other's wolf form. "Even your wolf is beautiful," the alpha whispers, still loud enough for Yoongi to hear. The omega whines, feeling shy as his ears flatten against his head and he tries to make himself -
- smaller. "Sorry, I'll leave you alone now," the alpha bows his head and starts to make his leave, but turns around quickly at the sound of whimpering. Yoongi doesn't even realise he's making the sound, his wolf is doing it subconsciously, the same with his movements and the -
- way he has made it almost to the edge of the stream bank, the water now only a few inches deep. "Yoongi-ssi?" The alpha seems hesitant but Yoongi decides to listen to his inner omega. The screaming from his wolf is so loud, he just wants to be close to the alpha. Ever -
- since the small scenting earlier in the day it's like all his wolf can think about is Jimin. He leaves the stream and treads closer to where the man is standing until they are just a few steps away from one another. Another whine vibrates out of his throat as he sits down on -
- the stream bank, just staring at the alpha and waiting for his next move. Jimin's facial muscles move, a smile covering his features so wide that his eyes turn into small moons that Luna herself would be proud of. Yoongi doesn't even notice the way his tail wags at the -
- sight. The alpha steps closer, closing the gap between them and reaching out a hand towards Yoongi's ears. He stops a few inches before making contact - "Is this okay?" Yoongi tries not to roll his eyes, of course his fated mate would be the only alpha in the world to ask -
- for permission over something so small. He finds it sweet, reassuring. Like the alpha genuinely means what he said this morning about it being Yoongi's choice. He moves his head those last few inches, practically melting when the alphas hand comes into contact with his fur. -
- It feels so good. Jimin is gentle yet firm, stroking over his ears like they're something precious. He moves to the fur behind them, gradually scratching along Yoongi's skin. It's when he hits the notch behind his jaw that Yoongi fully loses control. -
- The shift happens so fast that neither of them are expecting it. Yoongi is disoriented, looking around for a second before realising his predicament - his very naked predicament. The strong smell of spice hits his nose, laced with an undeniable musk or arousal. -
- "Shit," Yoongi curses, frantically trying to cover himself with his hands, a vibrant blush covering his pale skin as the moonlight shines down on them through the tree branches. Jimin chuckles, quickly looking away as he swiftly tugs the tunic over his head and hands it to -
- Yoongi. Yoongi grabs the fabric like a lifeline, pulling it over his head and trying not to purr as the strong alpha scent coats his body. The clothing is big on him, falling down to his mid-thigh and covering everything he would want covered. -
- "Thank you," Yoongi mumbles, fiddling with the long sleeves of the shirt, his fingers only just peeking out of the ends. "I didn't mean to shift, I lost control for a second." "I know," Jimin smiles softly, "That's how I've felt since I saw you." -
- Yoongi tries not to swoon, this alpha is a charmer and he's already whipped. But he can't help but be slightly annoyed at how he seems to turn into a pile of goo (and other substances) every time the alpha opens his mouth. "Don't do that." He glares at the other. -
- "Do what?" The alpha asks, an almost playful look in his eyes. "You know what," Yoongi huffs, walking away from Jimin and sitting down on the bank, looking out over the stream and admiring the way the moonlight glimmers on the surface. Jimin follows him, sitting down on the -
- grass before speaking again - "I'm sorry if I made you uncomfortable." Yoongi turns to look at the alpha, his breath catching in his throat as he stares at the most beautiful man he has ever seen. The moonlight frames the silhouette of Jimin's face perfectly, accentuating -
- his pouty lips and button nose. The light shines off of his eyes, almost crystallising the brown irises. He's breathtaking. But in a way that is not usual to an alpha. The almost feminine qualities to his features gives him a prettiness that even the most beautiful of omegas -
- would be envious of. "You didn't, I just don't know how to respond, you make my omega squirm," Yoongi complains. "Squirm?" Jimin giggles. "You know what I mean!" The omega huffs, tucking his knees up and pulling the tunic fully over them, trying to warm himself without a -
- thick pelt of fur on his body. "I know, it's difficult to describe. My wolf just wants to be near you constantly, and when I heard about your betrothal, it took everything in me not to scream." Yoongi looks down at his hands, frowning. He feels bad for the alpha, he's -
- travelled this far only to find out that his omega is betrothed to another. "I'm sorry," Yoongi speaks softly, "You deserve better." "Yoongi-ya," a fairly small hand gently cups his chin and tilts his head to face the alpha, their eyes locking and revealing the slightly -
- watery sheen to the omegas. "None of this is your fault, I know we have just met and we don't know much about one another, but I promise you that Luna knows what she was doing. I feel so lucky that she thinks I deserve you. I've talked to your brother, Taehyung, and he has -
- told me how much of an amazing wolf you are." Yoongi leans more into Jimin's hand, the caress feeling so good on his skin as the alpha continues - "You're my omega, my wolf knows that… even my heart knows that. And I can't wait to show the world that by leaving my mark on -
- your neck." Yoongi's breath hitches, the alpha seems to be getting closer and closer with each word, their faces now mere inches away from one another. His eyes flick down to Jimin's lips, then back up to his eyes, the alpha mimicking his action as the air around them seems -
- to get tense. "Kiss me -" The words are barely uttered from Yoongi's mouth before soft lips brush against his own. It's gentle, warm, his eyes close as the feeling of coming home washes over him. His inner omega feels so content, their scents intermingling around them as -
- the kiss progresses. They press against each other a bit firmer, Yoongi's lips parting slightly until Jimin's tongue lightly swipes across the bottom one. The omega can't hold back the gasp, his body heating up at the small movement, the slight taste of his alpha on his lips. -
- It's all too much. Strong hands suddenly grip his waist and pull him closer until Yoongi has no choice but to crawl into the alpha's lap, straddling him. He tangles his fingers in the dark locks of Jimin's hair, tugging gently to make him gasp and open his mouth, allowing -
- Yoongi to slip his tongue inside and taste his future mate. It sends fire licking through his body, every nerve setting alight as he runs his tongue across the alphas palette. The first trickles of slick start to leak out of him slowly, without either of them realising. -
- They're too lost in how good it feels, the moonlight shining down on them as they breathe each other in, feeling, tasting, touching. Jimin moves away from Yoongi's mouth and works his way down the omegas throat, leaving soft kisses and licks as Yoongi throws his head back, -
- letting out needy whines as Jimin gets closer and closer to his scent gland. The first touch of Jimin's lips against the sensitive spot is like heaven. Pure bliss. He rubs his cheek against the area, gently scenting Yoongi as their chests start to rumble, synchronised purrs -
- filling the forest. The slight scrape of Jimin's teeth has Yoongi fully moaning and rocking forward, rubbing his hardening cock against the bulge in the alphas pants. It startles them both as they pull back, eyes wide and breaths heavy. The realisation of the situation -
- dawning on them. "Fuck," Jimin pants, resting his forehead against Yoongi's as they both catch their breaths. "I agree." Jimin chuckles as they make eye contact again before leaning forward and pressing a soft kiss on Yoongi's lips, this one very different from the previous.
- "I'm sorry, that shouldn't have happened," Jimin grimaces, "I intend to court you properly like you deserve." Yoongi giggles, his gums shining through in a full smile. "You're my fated mate Jimin-ah, I already feel connected to you, You don't need to try and woo me." Jimin -
- grins back and shakes his head fondly. "I might not need to, but I want to. It's what you deserve." Yoongi blushes, feeling giddy at the prospect of his alpha wanting to earn his affections. "We should get back before it gets too late, you'll catch a chill." -
- They make their way back to the village quietly, Jimin leaving Yoongi's side before anyone can see them, whispering promises of "the courting of Yoongi's life" before heading back to the hut the pack had given him to reside in during his stay. -
- Yoongi returns to his hut feeling slightly spaced out, his omega buzzing with joy after spending so much time with his alpha. He should feel embarrassed about what transpired, but he doesn't. Nothing is awkward, Jimin feels the same as him. The pull. The pull that makes him -
- want to do nothing else but be with his mate in the way that fated wolves should be. Before this evening, the choice would have been an easy one, Yoongi always putting the safety of his pack before anything. But now… now he doesn't know what to do…
-
-
-
-
-
-
tag update - dead animals, courting rituals, unsexual non-coessential touching
The overwhelming scent of blood tinges his senses as Yoongi awakens, the sleep being pulled out of him by the iron tang in the air. At first he panics, still in his half asleep state, before realising that the blood isn't wolf, but that of a prey animal. -
- Thank Luna, the last thing he needs right now is for an attack to occur. Yoongi groans as he slinks out of the comfort of his furs, the strong scent of cinnamon and sandalwood still clinging to his skin where Jimin had scented him the night before. His wolf feels content, -
- knowing he smells like his alpha. He'll have to bathe before seeing anyone or else he could be accused of fraternising with Jimin. Which he did… but no one has to know that… His thoughts on the matter, however, are left frozen when he cracks open his hut door after -
- throwing on some clothes and is faced with the bloodied throat of an elk. It's an impressive kill, that's for sure. But first thing in the morning it's not what Yoongi wants to see. He tries not to groan at the sight. Of course Minseok would choose this as a way to show -
- his first courting gift, wanting to broadcast his strength and show it to the entire pack by leaving the lovely carcass in front of his hut. The threads of red and gold silk ribbons around the elk's neck signify the colours of the Kim pack, making the hunter of the beast -
- undeniable. Yoongi is sick of being courted already and he's only on the second phase. Courting amongst wolves in traditional packs has a thorough process that must be followed, with 5 steps that symbolise the phases of the moon from new moon to full moon. They are to take -
- place within the 2 weeks leading up to the full moon that will hold the mating ceremony - using the moon as a guide. The New Moon indicates the first scenting. The wrist scenting. A New Moon signifies the start of something, a new beginning. It's the perfect time for -
- courtship to start. The pair of wolves will use the scent glands on their wrists to exchange scents for the first time to symbolise the start of courtship. The Waxing Crescent Moon means time for the first gift: Nourishment. The pursuer must gift their proposed mate with -
- something that shows they can provide for them and sustain them. This is usually food in one form or another. Most wolves choose to hunt for a boastful prey, taking the chance to show their strength at the same time. The Half Moon, occurring roughly a week after courting -
- begins, is when the second gift is procured. This time it's a gift of Protection. The ruling is vague, giving wolves the opportunity to think and decide how they want to go about it, be that building a shelter or knitting a scarf - both provide protection in different ways. -
- The Half Moon is an important stage as it's the one in which most wolves decide whether they want to continue with being courted. The choice of gift must impress the perceived mate enough for them to accept. The Waxing Gibbous Moon indicates growth, and in the case of -
- courtship; the growth of love and affection. The third and final gift must display Love. Again, very vague and up to interpretation. Whether it be a gift that shows love physically, or a creation that the wolf has poured their love into. If the third gift is accepted, then -
- the courter will be rewarded with a full scenting session at the neck while the moon shines bright in the sky above them. The Full Moon is when the Mating Ceremony occurs. All wolves of the pack gather under the full moon at the village altar. The new couple are dressed in -
- white silks and stand in front of the altar while the pack are on their knees in a circle around them, the only light allowed being that of small candles and the moonlight. The pack alpha says the incantation, blessing them and praying to Luna to bless the new couple before -
- the pair get down on their knees under the full moon and place mating bites on one another's necks. The rest of the pack celebrate the union through dancing and music under the full moon while the newly mated pair take off, running into the woods in order for the Mating Run -
- to commence. The first mating of the pair must happen under the moon for it to be considered blessed. Yoongi had already completed the New Moon stage of courting with Minseok on the first day of the new moon, having to endure the stench of strong peppermint all day and -
- trying not to throw up before hastily scrubbing his wrist in the riverbeds late at night. Jimin had also initiated this step just the day before, he had been lucky to have met Yoongi on the day before the first Waxing Crescent Moon, cutting it fine to be allowed to court -
- him. Yoongi bets that Minseok is extra salty about that. And while technically Jimin did scent Yoongi the night before, Yoongi didn't scent him back, meaning that they are still following the traditional steps… It seems that Minseok has decided to bestow his first "Gift" to -
- Yoongi as soon as possible by dumping it outside his door on the morning after the crescent moon. The omega would like to say he's surprised by the immature actions but he's really not. So now he's left having to deal with it. Yoongi sighs as he grabs the rope around the -
- animals' neck and starts the arduous task of heaving the Elk towards the pack's main kitchens - there is no way in hell he's about to deal with this thing by himself. Plus the pack cooks can sort out the meat as supplies over the winter. Luckily at such an early hour most of -
- the pack is still asleep, meaning that Yoongi gets halfway to the kitchens before a shout rings out through the village. "YOOOOOONGIIIIII-HYUUUNGGGG!" A messy-haired man comes running towards him, hands and face covered in dirt. -
- "Tae-ah, why the fuck are you so dirty already?" Yoongi groans, knowing that their eomma is going to scold his younger brother for covering his freshly washed clothes in mud. "I was chasing a squirrel and it climbed up a tree so I climbed up after it but the branch broke and -
- I ended up falling in a muddy puddle," the younger pouts as Yoongi snorts, continuing trying to pull the Elk. "You want some help?" The pair of them heave the beast to the kitchens, the cooks already up and preparing breakfast. They look at the Elk in shock before their -
- faces fill with glee and they gladly take the hoofed creature off of their hands. "So, carrying around an oversized courting gift that was obviously from Min-suck while smelling like a fruity cinnamon roll? My hyung is scandalous," Taehyung grins at the pure panic that coats -
- Yoongi's face as he remembers how he smells. He starts speed walking in the direction of the river, leaving Taehyung behind as he focuses on not getting too close to any of the slowly awakening pack members. "DON'T WORRY HYUNG, YOUR SECRET'S SAFE WITH ME!" The giggling beta -
- calls after him, Yoongi cursing Taehyung under his breath as he makes a run for the forest. Damn his younger brothers, always sticking their noses into things that don't concern them. It's a good thing he loves them.
-
-
-
-
-
-
Yoongi scrubs furiously at his skin - his neck especially - trying to remove all traces of Jimin from his flesh. He hates it, everything in him sobbing about no longer smelling like his mate. It feels wrong, disgusting even. He wishes it didn't have to be this way, that he -
- could keep Jimin's cinnamon and sandalwood etched into his skin for the rest of his life. But he can't. At least not yet. He still has a decision to make. He throws on his clothes again, still damp from the river water, and hurries back to the village, trying not to shiver -
- in the autumn winter chill. It seems winter is coming sooner than the previous year. Luckily the pack is prepared, having already stored most of the provisions for the cold weather, knowing that hunting and collecting firewood in the snow is much more difficult. The winter -
- store of fire-wood is practically full already and the pantry in the kitchens is steadily filling up with cured meats and maturing cheeses. As well as that, the chickens they keep will still supply them with eggs when kept in the warmth. Yoongi is almost back at his hut when -
- his arm is suddenly yanked back, the nauseating smell of mint filling his lungs as he takes in the smug smirk of Minseok, his father - the Kim Pack Alpha, standing next to him. -
- "My omega, will you join me today to discuss your first gift, as well as keep me company as we go hunt together?" Yoongi tries not to scowl, bile threatening to creep up his throat at the words "my omega". But at the same time he's glad that Minseok actually wants to do -
- something other than just expect Yoongi to sit in a field next to him while he boasts about his hunts and how all the omegas in his pack want to mate him. It's disgusting really. "Umm, sure, I'll just go get changed and we can meet in the village hall for breakfast?" Yoongi -
- suggests, wanting to be alone with the alpha as little as possible. Minseok seems to grumble at this but his father answers for him, a disturbingly creepy perverse smile on his face as he looks Yoongi up and down like a piece of meat. Asshole alphas. -
- He runs back to his hut and it takes everything in him to ignore the large tunic hidden in the furs of his nest, knowing that the cinnamon and sandalwood scented material will just undo everything that his trip to the river cleaned off. Instead he pulls on another looser -
- tunic and pants - nothing overly fancy or fitted if he's going to be shifting to hunt anyway. He pulls on his already muddy boots and makes his way out of the hut, heading towards the dining hall. -
- When he gets there he internally curses, seeing Minseok sat as far away from his own friends as possible; giving him no excuse not to give him his undivided attention. Great. Just lovely. Yoongi presses a forced smile between his cheeks and makes his way over to the table -
- holding Minseok and a couple of his annoying alpha lackeys. Minseok looks up as he approaches, brows seemingly furrowing as he takes in Yoongi's appearance. The omega has to hide his smirk, knowing the other is probably frustrated at how Yoongi doesn't tend to wear -
- stereotypically omegan clothing. In the Min pack it's not an enforced thing - wolves can wear whatever they want. But in other packs omegas are only provided with more fitting clothing, made to show off their curves to try and entice alphas. -
- Yoongi says a massive fuck no to that. Why wear restricting articles when he's doing active tasks, the last thing he wants is to feel restrained with his movements. Plus it's more of a hassle when he has to strip to shift. He doesn't mind tighter clothing when he wants to -
- look pretty for celebrations and occasions, even enjoys a corset now and then, but on a normal day he would rather not. Yoongi goes to sit down opposite Minseok before the alpha speaks up; "My omega should sit beside me, I saved you a space," the alpha grins almost -
- menacingly as he gestures to the small amount of space left on the bench next to him. If Yoongi were to sit there then he would practically be in the other's lap. The fucker. But he has no other choice, he doesn't want to come across as rude - especially when some of the -
- other pack Alpha's had stayed the night and were sitting in the hall nearby. So he gives another forced smile and takes the seat, hanging onto the edge of the bench as much as possible in order to keep any distance he can from the peppermint alpha. Minseok destroys any -
- possibility of distance, however, when he throws his arm around Yoongi's waist and pulls him flush to his side. His hand grips the omega's hip roughly and Yoongi grits his teeth. The stench of mint swarms him, making him instantly feel nauseated. Just being this close to -
- another alpha, let alone a shitty one like Minseok, has his inner omega screaming at him to get away. But he endures it, feeling a plethora of eyes on him. The Kim alphas seem to ignore him for a few blissful minutes, continuing the conversation they were having before -
- Yoongi turned up. He only tunes into what they're saying for less than a minute before blocking it out with disgust. He'd rather not know their sexual exploits. Thank you very much. Instead he locks eyes with his mother, the elder omega looking at him with concern. He tries -
- to reassure her with a small smile, but she still seems to be worried as she looks down at her own food and looks back to see Yoongi without any of his own. Yoongi just shakes his head slightly, silently letting her know that he doesn't want any. He's far too nauseous to -
- eat right now. It's at that moment that Minseok seems to pay attention to him again, also noticing Yoongi's lack of food. "Where is your food, my omega?" "I'm not hungry," Yoongi brushes off the question, but the alpha doesn't seem to like that answer. -
- "You should be eating three full meals a day, I can't have my omega getting too thin, you'll need to be plump to produce my pups," the gaggle of alphas all smirk and snigger at him as Minseok slips his hand a bit lower on Yoongi's side, squeezing the meat of his upper thigh. -
- Yoongi tenses, trying to keep his breathing even and not growl at the unwanted touch. "I'm not hungry," he replies, this time more firmly. Minseok again, doesn't like that. His eyes narrow and his brow furrows in frustration before he leans over the table and grabs a plate -
- of meat, picking up a piece with his chopsticks and holding it up to Yoongi's mouth. "Eat." Yoongi just turns his head away from the food, knowing it's petty and impolite but fuck it. Even if he forced himself to eat it, the food wouldn't stay down for long. -