O golaço de Richarlison em várias línguas. Pelo diário Marca, da Espanha: "El 1-0 fue de cazagoles, y el segundo va directo al Louvre de la historia de los Mundiales, un tijeretazo impecable, acrobático, potente y ajustado, imposible de conjurar."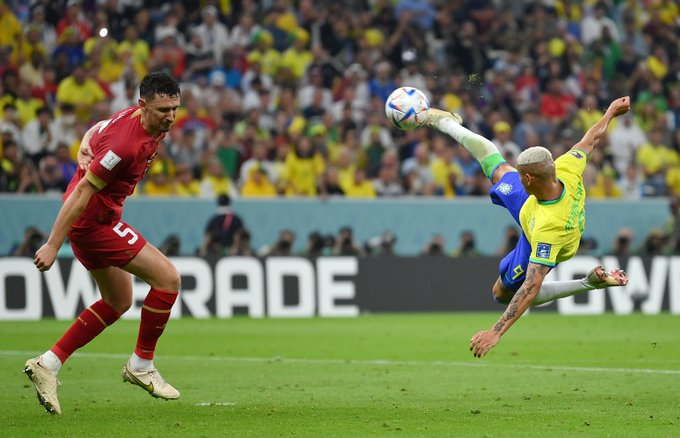 Guardian, UK: "Richarlison flicked the ball up in the air with his toe, flung himself skywards, his blond head rotating on its axis like a light show, before smashing the ball in with a pure capoeira swipe: a goal straight out of a soft drink advert, filmed in one clean take"
As, da Espanha: "Aquel suspense duró hasta que Richardlison hizo el gol del Mundial, o de varios Mundiales. Vinicius metió un balón en el área y el ariete brasileño levantó la pelota con la izquierda y la empalmó de media chilena con la derecha en soberbia acrobacia."
Folha, Brasil: "Quando a bola subiu ao ar aos 28 do segundo tempo, Richarlison já sabia o que fazer e começou a ajeitar o corpo. Décimos de segundo mais tarde, ele protagonizaria o mais belo gol já marcado pela seleção brasileira em uma estreia de Copa do Mundo".