With RCN strike dates confirmed for December the most common question I'm being asked is: How can I support striking nurses? Here are 5 practical ways you can help the cause A (smallish) thread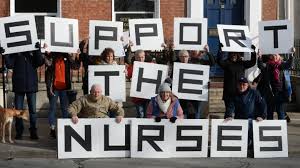 Any striking union will have a strike fund that supporters can donate to. This generally will help the union to pay strike benefit to members which will ease the financial burden due to loss of earnings
Go to a picket line stand with your local nurses, this will be a massive morale boost to know that the public are visibly behind us. And hey if you want to bring snacks I reckon that would be appreciated
Call in to tv & radio shows and make your support known! This will help balance an often anti strike narrative. We know we have public support but it sends a strong message when it's vocalised
Raise awareness on social media. Change your banners/cover pics. Share posts from trade unions and activists. Help elevate our voices.
Put a poster up in your window Even small gestures make a difference. I can assure you if I was out walking in my neighbourhood and seen a support poster it would make my day
Image credit: Alan Betson
For details of where to find your nearest picket line you can go to
strikemap.co.uk
once they are released you can find your local picket easily using a postcode search
Can my friends at
@RMT
and
@Enough is Enough
give this thread a retweet for me?