It didn't help that all the heating in the building felt like it was turned up to the max. He tugged at the neck of his cable knit sweater but left it on. He'd be back in his apartment soon enough.
He wandered over to the elevator where he saw someone else waiting; a man with dark, curly hair, who was carrying a box and had a couple more at his feet. A new resident and not only that, a new alpha resident.
Now that he was closer, Atsumu could smell him, the aroma earthy and bitter, like ground coffee. What a delectable scent. Atsumu crinkled his nose, trying his hardest to concentrate on anything else but that was difficult, especially when a pair of jet black eyes glanced at him.
The man wore a mask, covering half his face but Atsumu could see how handsome he was, two small moles drawing his eye in particular. "Hi," Atsumu said as he stood beside the alpha. "Ya movin' in?" "Yes," the man replied.
Atsumu nodded and rocked on the balls of his feet. "That's nice. Is it just ya?" "It's my cousin and I. He's already gone up with some boxes," he said.
"I live with my twin brother and his mate," Atsumu said. The alpha just nodded. Atsumu glanced down at the boxes at his feet. "I can give ya a hand taking yer stuff up, if ya'd like?" The man glanced at him. "Sure, that'd be a great help."
Atsumu smiled and picked up the nearest box right as the elevator doors slid open. He stepped inside, the other man stepping in right behind him now carrying big boxes two /Strong/. Atsumu shook his head. He needed to rein it in. He didn't want to freak out his new neighbour.
"Which floor is it?" Atsumu asked. "Four," the man replied. "Oh really? That's the same as me," Atsumu smiled. He pressed the button and the elevator doors slid closed with a ping. He turned to the alpha who was watching the number go up on the small screen.
"I'm Atsumu," he said. The man glanced at him. "I'm Kiyoomi." "Nice ta meet ya," Atsumu said. "I'm sure ya'll love livin' here. Everyone's real friendly." "Thank you for the warm welcome," Kiyoomi hummed. "No proble-"
The elevator squeaked and came to a halt. Atsumu frowned and looked at the number on the screen. It said 4 but the doors weren't opening. "Ummm," he said. "Is the elevator stuck?" "It seems that way," Kiyoomi murmured with a sigh.
He placed the heavy boxes down, as did Atsumu who then moved to the button panel. He pressed the yellow button with a bell on it. "Hello? The lift's stuck. Can anyone get us out?" he said. No answer. "There's no one there, is there?" he tutted. He turned back to Kiyoomi.
"Now what?" Kiyoomi asked. "I'll call my brother," Atsumu replied, pulling out his phone. He went to his contacts and clicked Osamu's number, holding it up to his ear. Osamu picked up after just two short rings.
"What's up, Tsumu?" he asked. "Did ya get that rice I asked for?" "Shit," Atsumu murmured. "I ain't lettin' ya in if ya come back without it," Osamu said. "We can talk about that later, Samu. This is somethin' serious," Atsumu replied.
"What's up?" Osamu asked, his tone shifting to concern. "The elevators stuck," Atsumu said "Again?" Osamu asked. "Yes, again," Atsumu sighed. "There ain't anyone answerin' the emergency call button either."
"Alright," Osamu said. "Let me call someone, I'll get ya outta there as soon as I can." "Please do," Kiyoomi murmured. "Is someone in there with ya?" Osamu asked.
"Yeah, it's the new neighbour movin' in on our floor," Atsumu replied. "If ya see his cousin tell him what's goin' on, would ya?" "Sure thing," Osamu hummed. "I'll try and get ya out as soon as I can." "Thanks, Samu," Atsumu said before hanging the phone up.
He turned to Kiyoomi and smiled. "We might be stuck in here for a little bit. May as well get comfortable." Atsumu sat himself down on the floor, his back resting against the wall. Kiyoomi raised a brow at him. "You sound like you're used to this."
Atsumu grinned. "I've got stuck in here a few times. It's no biggie." "How long does it usually take?" Kiyoomi asked. "About an hour," Atsumu replied. Kiyoomi sighed.
"I know it's annoyin', especially when yer tryin' ta get all yer stuff unpacked but it means we get ta know each other better," Atsumu smiled. Kiyoomi's expression softened. He sat down against the adjacent wall.
Then they talked. They discovered they had a shared interest in volleyball and surprisingly, Kiyoomi was into a lot of the same dramas that Atsumu was. He even got to hear Kiyoomi laugh; it was one of the most beautiful things he'd ever heard.
Trapped inside an elevator with Kiyoomi was both a dream and a nightmare. He couldn't escape the alpha's scent. It filled up the small space and took over Atsumu's senses. He simultaneously wanted to bury his face against the alpha's neck and get as far away from him as possible.
His body was reacting to him in a way it hadn't to any other alpha and he wasn't sure how to feel about that. Sweat was beading on his hairline. He tugged at the collar of his sweater. It didn't help. He felt like he was burning up. "It's so hot in here," he commented.
Kiyoomi cocked his head. "Is it? I feel a little chilly." "Must just be me," Atsumu said with a weak chuckle. He leant his head back against the cool metal wall of the elevator. That didn't help either.
Kiyoomi's eyes narrowed. He raised his hand and pulled down his face mask. The lower half of his face was just as handsome. Kiyoomi's nostrils flared as he took a deep inhale. His pupils dilated. His breathing deepened. "You're in heat," he said breathlessly.
/Oh/. Now it all made sense "Fuck, not now," Atsumu whined, clawing at the neck of his sweater. Kiyoomi licked his lips but pulled his mask back up over his nose. Atsumu noticed the way his fingers were twitching.
Atsumu panted. He was sweltering and there was a sudden tightening in his gut, an ache that left him yearning. This was bad, really bad. He glanced desperately over at Kiyoomi. The alpha's fingers were digging into his thighs. "Alpha," Atsumu whined.
"Fuck," Kiyoomi gritted as he pushed himself up. He moved over to the elevator console and pressed the emergency button. "You need to get us out of here, now!" he said forcefully, a rumble rising in his chest. "The omega I'm in here with is in heat."
There was a crackle from the other end of the line. Finally, an answer. "What was that, sir?" a woman's voice asked. "Did you say you're stuck in the lift?" "Yes," Kiyoomi gritted. "With an omega that's in heat. I'm an unmated alpha."
"Oh! Oh dear. Please remain calm, sir," she said. "We'll send someone out straight away." "Thank you," Kiyoomi grunted. He pressed his hands and forehead to the cold metal wall, trying to compose himself.
Atsumu could see the veins on his hands, could hear his ragged breathing, could smell the deep earthiness of his scent. Slick was beginning to leak between his legs, staining the back of his pants.
He knew Kiyoomi had smelt it when he looked back over his shoulder with a heated look in his eyes and a growl rumbling in his throat. The mask must've been doing little to block out Atsumu's scent.
Kiyoomi turned to him, stalking closer and looming above him. Atsumu tipped his head back against the wall, baring his neck. If he was a good omega, alpha would give him what he wanted. Kiyoomi's fists clenched as he crouched down in front of Atsumu. He slowly extended a hand.
"Pass me your phone," he said, voice tight. Atsumu just stared. "Atsumu," he said firmly. Atsumu whimpered but reached into his pocket to pull out his phone. He handed it over, shivering when Kiyoomi's fingers brushed against his own.
He watched Kiyoomi flick through his phone and raise it to his ear whilst he stood back up. "Hello," he grunted. "Ummm, hello?" It was Osamu's voice. "It's Kiyoomi," he said. "The guy stuck in the lift with your brother."
"I figured that," Osamu replied. "Why is it ya callin' me? Is Tsumu alright?" "He's in heat," Kiyoomi rasped. "And I'm an unmated alpha."
"Oh shit. Fuckin' shit," Osamu uttered. Atsumu could hear the panic in his voice. "Look, I'm doin' everythin' I can. Just… Just don't touch him, no matter how much he begs ya ta, please."
"I promise I won't do anything to him. There should be someone on the way." Kiyoomi growled. "But fuck, hurry up. His scent, its…" "I'll get ya outta there as soon as I can," Osamu said.
Kiyoomi hung up the phone and slumped down on the floor, the phone falling from his hand with a small thump. Atsumu was lying on his side, curled in on himself. He ached. He felt empty. He needed an alpha. He looked up at Kiyoomi who was panting. He was struggling too.
"Alpha," Atsumu whimpered. He crawled towards Kiyoomi. Every part of him felt weak but he had to make it to the alpha, he had to. "You need to stay away, Atsumu," Kiyoomi said with a biting snarl. Atsumu whimpered and shook his head. He crawled closer.
Kiyoomi covered his mask with his hand, trying to block out Atsumu's potent scent. Atsumu reached for him and Kiyoomi grabbed his wrist. "Atsumu," he said in a warning tone. Atsumu whined. "Kiyoomi. Kiyo-omi. Please Omi, it hurts. I-I need-"
Tears were leaking from his eyes and rolling down his flushed cheeks. He sniffled and whimpered at the cramping in his stomach, the ache inside him that told him he needed to be filled.
The grip on his wrist loosened but didn't pull away. Low noises rumbled in Kiyoomi's chest as he stared at him hungrily. Atsumu was ready to be devoured.
Kiyoomi tugged him closer and Atsumu willingly crawled into his lap. He straddled Kiyoomi's thighs and purred when Kiyoomi drew his knees up, sandwiching him against his strong body. Kiyoomi was so hot against him.
He could feel the thick bulge in his pants pressing against his ass and in turn, Atsumu pushed his clothed cock against Kiyoomi's stomach and relished in the friction. He moaned, something heady and desperate.
Kiyoomi hushed him, bringing strong hands to Atsumu's hips to keep him steady and halt his small, grinding movements. "Calm down," he thrummed, rubbing circles against his hips with his thumbs.
Atsumu whimpered and brought his own hands up to the zip on Kiyoomi's hoodie. He got it halfway down before hands closed around his own. "Alpha," he whined.
Kiyoomi took his hands and settled them on his shoulders instead, so Atsumu could dig his fingers into the fabric of his hoodie. He kneaded and curled his fingers, desperate to grab onto the alpha in any way he could.
Kiyoomi snarled, gripping Atsumu's waist so he could pull him closer, their chests pressed together. Atsumu buried his face against the alpha's neck. His scent was rolling off him in wave after enticing wave. It made Atsumu tingle all over.
He could feel more slick leaking between his legs, soaking his jeans. He mouthed at one of Kiyoomi's scent glands and pawed at his shoulders, before bringing his fingers up to wrap in the alpha's curly hair.
Kiyoomi traced his masked nose down Atsumu's neck, the touch feather-light. Atsumu wanted his mouth on him too, wanted every part of him. "Alpha, please," Atsumu begged. He pressed down against the bulge in Kiyoomi's pants, feeling it twitch even through layers of fabric.
Kiyoomi panted. "You're so wet." He could feel it through his trousers. Atsumu moaned softly. "Need yer cock." "/Fuck/," Kiyoomi cursed, finally pressing his lips to Atsumu's neck through his mask but a moment later, they were gone again.
Atsumu tugged at his hair to try and get him back but Kiyoomi pulled away, "Be patient, omega," Kiyoomi commanded.
Atsumu whimpered but nodded, wrapping his arms around the alpha's shoulders instead. He nuzzled against Kiyoomi's neck and grinded against his cock. He was desperate to please but more desperate to be filled by a fat alpha knot.
"Alpha," he pleaded. "Need ya ta fuck me on yer knot, please." A low noise reverberated in Kiyoomi's throat, sultry and possessive. "Be a good omega for me, Atsumu," he said. "Can you do that?" "Yes alpha, anything," Atsumu replied. "Just please touch me."
"I can't do that, Atsumu," Kiyoomi gritted. Atsumu whined in frustration. Kiyoomi hushed him again. "You're doing so well. Such a good omega."
He wrapped his arms around Atsumu, pulling him close and raising his neck so he could scent him. Atsumu purred when Kiyoomi rubbed their scent glands together, marking him as his.
Atsumu was panting and moaning right against Kiyoomis ear, letting desperate begs and needy pleas fall from his lips. He wanted him more than anything. The desire burned so hot. Kiyoomi was meant to be his alpha, he just knew it.
He whined as he frotted against Kiyoomi, bucking back against his lap like he was trying to ride the alpha's knot through his trousers. Kiyoomi's head thunked against the elevator wall, a sordid breath leaving his lips.
His eyes opened, dark pools of desire. Atsumu could see it, smell it, feel it. Alpha wanted him too. He preened and presented his neck to Kiyoomi once more.
A growl resonated through the mask. Then Kiyoomi brought a hand up to yank it off. Without his mask he was hit with the full force of Atsumu's scent, enveloped in it until it was the only thing he could think about, the only thing he wanted. He growled, conflicted.
The urge was so strong but he had to resist. Kiyoomis teeth bared with the growl and Atsumu whined high in his throat. Sharp, glistening canines, so big, perfect for claiming him.
He wrapped himself around Kiyoomi, resting his chin on his shoulder and getting his nape as close as he could to the alpha's mouth.
Kiyoomi pressed his lips to his nape and Atsumu could feel the low, sultry noises vibrating against his skin. But then they were gone again. Atsumu felt like he could cry. The tears were stinging the corners of his eyes. He wanted it so desperately.
"Alpha, don't ya want me?" he whimpered. "Am I not good enough?" Kiyoomi squeezed tighter, holding him close. "That's not true. You're perfect, Atsumu. Such a good omega," he crooned. "You smell so good. I could just bite you." "Please, alpha," Atsumu begged.
"You want that?" Kiyoomi asked breathlessly. "You want me to claim you? Atsumu canted his hips and moaned. "Please Omi." "/Fuck/," Kiyoomi growled.
The press of lips and the brush of a tongue across his skin. Atsumu felt so hot, he melted against Kiyoomi, waiting and anticipating. He tugged at the front of Kiyoomi's hoodie with a breathy plea on his lips.
Sharp canines dug in, but not into Atsumu's nape. The bite was enough to break skin, to draw blood. It trickled from Kiyoomi's forearm where his jaw was now tightly latched, his teeth sinking into his own skin.
Atsumu pawed at his chest, tears falling down his cheeks. Kiyoomi cupped the back of his head, pulling it against his broad shoulder and stroking through his hair. Atsumu sniffled and nuzzled against Kiyoomi's neck. "Alpha," he begged. "Need ya ta claim me, please."
Kiyoomi snarled but his teeth remained firmly in his own arm. Atsumu was about to start begging again when the elevator doors squeaked and light streamed in. He glanced back at the blur of people and grabbed tighter onto Kiyoomi. Alpha would protect him.
Kiyoomi growled as the people approached them, his hold on Atsumu tightening. Atsumu felt a touch on his arm and looked up, greeted by a soothing omega scent. Suna stood, bent over, his eyebrows laced together in concern. He gave a gentle tug. "Come on, Tsumu," he said.
Atsumu shook his head and gripped onto Kiyoomi with all the strength he had. Suna glanced back and there stood Osamu, just outside the doors to the elevator. He stepped inside and Kiyoomi's growls grew deeper, more volatile. The presence of another alpha was setting him on edge.
Atsumu pressed his face into Kiyoomi's neck, his scent so strong it was dizzying. Osamu grabbed his arm and began to pull, dragging him away. He cried and whined, begging his alpha not to let him go. Kiyoomi tried to hold onto him but somebody pulled him back as well.
"Mine," Kiyoomi snarled, trying to pull away and get back to Atsumu. "My omega." Atsumu preened. "Kiyo, calm down," he heard the person say but he was too concentrated on Kiyoomi to spare them a glance. "Alpha, please don't leave me," he whined, reaching out for Kiyoomi.
Osamu pulled him back. Kiyoomi snarled, rising to his feet. "I need you alpha, please," Atsumu cried. His legs were ready to give out, trembling beneath him. Osamu held him up and moved him out of the elevator, brushing past a man who must have repaired the elevator.
Atsumu desperately looked back, not wanting to lose sight of Kiyoomi. He was still in the elevator, crimson dripping from his arm and a brunette man trying to hold him back, calm him down.
All Atsumu knew was that he was being taken away from his alpha and he didn't like that one bit. "Omi," he called out one last time, his voice choking. He saw the dark, yearning look in Kiyoomi's eyes, before he was led away down the corridor and into his apartment.
He could hear Kiyoomi calling his name even through the door and he whined for him, trying to slip out of Osamu's grip, but his twin moved him away and into his own room.
He was laid down and brought a glass of water and some food and that was the last coherent thought he had for the next few days. He remembered fucking himself on the thickest dildo he had, desperate and begging for a knot that he wouldn't get.
He remembered thinking of inky eyes and dark curls, strong hands that would caress him, hold him open for a cock that would fuck him deep and leave him full and sated on a fat knot. He remembered crying out for Kiyoomi, hoping the alpha would hear him and come and help him.
But he was left to deal with his heat himself, having to hump his cock pathetically against the bed sheets and rock back on his dildo until he was spilling his load across his stomach. Suna would come in to check on him and bring him water and food that Osamu had made for him.
He remembered Suna telling him that he'd seen Kiyoomi in passing and the alpha had shown great concern for him, asking if he was okay.
Atsumu had preened and when Suna left he rode his dildo until he was trembling, his stomach and sheets coated in several loads of cum; he'd lost count of how many. It was four days after the elevator incident that Atsumu finally came back to himself.
He woke up late in the afternoon and was covered in dry cum and slick but other than that, felt refreshed. After a long, much needed shower, he entered the main room where Osamu and Suna were. Osamu looked over from where he was doing something in the kitchen.
"Feeling better?" he asked. Atsumu nodded. He flopped down on the couch beside Suna, who smiled at him. "Thanks for looking after me, ya two," he said. "No problem, Tsumu," Suna hummed. "You gave us a fright though. You should've seen Samu when he got that call from Kiyoomi."
"I'm sorry," Atsumu sighed. <em>Kiyoomi</em>. "I need ta apologise ta him." "Go on then," Osamu said. "I can't go round there empty handed," Atsumu murmured. "Take that bottle of wine, what's in that bag and head over there," Osamu said, pointing to the counter.
Atsumu glanced at Suna, who grinned at him, then stood and moved over to the kitchen. He glanced into the bag. "It's food, I made it maself," Osamu said. Atsumu smiled at him and wrapped Osamu in a tight hug. "Thanks Samu." When he pulled away Osamu smiled and shook his head.
"Go on, go and give our new neighbours a proper welcome," he said, patting Atsumu's shoulder. Atsumu grabbed the wine and bag of food and raced out into the entryway, slipping on his shoes.
He went to open the door but stopped abruptly and turned back, sticking his head into the main room. "Which apartment is it?" he asked "410," Osamu called back. "And tell Motoya if he wants ta come over, he can." Suna smiled and nodded in agreement. Motoya?
Atsumu was off, rushing a few doors down the corridor until he stood outside apartment 410. He took a deep breath, trying to collect himself then knocked. It took a moment before the door was open but when it did, he found himself breathless.
Kiyoomi stood there staring at him, looking just as handsome as he had in the elevator, his scent just as appealing. Atsumu realised that it wasn't just because of his heat that he'd found Kiyoomi so attractive. "Atsumu," he said.
"Omi," Atsumu replied, giving him a shy smile. He saw the alpha gulp. "I just wanted ta come round and apologise fer what happened in the elevator," he said. "It's okay Atsumu. It's not your fault," Kiyoomi said.
"Well, I wanted ta thank ya as well. Fer being such a gentleman," Atsumu replied. "I put ya in such a difficult position. I'm sorry I did that." Kiyoomi smiled at him and Atsumu's heart fluttered. "Don't worry about it," Kiyoomi said. "I'm just glad you're feeling okay now."
It was Atsumu's turn to gulp. "I brought some stuff as way of apology and ta properly welcome ya ta yer new home," Atsumu said, raising his hands to show Kiyoomi what he had brought with him. "Come on in," Kiyoomi said.
Atsumu stepped inside and followed Kiyoomi through to the main room. There were a few boxes still strewn about but apart from that, it looked like Kiyoomi had unpacked and settled into his new apartment.
Atsumu wandered to the kitchen area and placed his gifts on the countertop. He turned around and saw Kiyoomi standing a few paces away from him. He glanced down and noticed his forearm covered in a bandage. "Your arm," Atsumu gasped. Kiyoomi looked down at it and chuckled.
"It's not that bad," he said. "I just needed a few stitches." "I'm so sorry," Atsumu murmured. It was all because of him that Kiyoomi had bitten himself.
"You don't need to apologise, Atsumu," Kiyoomi replied softly. "I'd rather need a few stitches than have bonded you without your consent."
Atsumu smiled at him. He could feel his cheeks flushing but this time he knew it wasn't because of his heat. It was because of the way Kiyoomi was smiling at him, soft and warm. The two stared at each other for a long moment before Kiyoomi spoke.
"Would it be bad of me to admit that I wanted to come round and drop off one of my t-shirts to help you through your heat?" he asked. Atsumu's breath hitched. He shook his head as he smiled. "Would it be bad of me ta admit that I thought about ya ma entire heat?" Atsumu asked.
"No, not bad at all," Kiyoomi replied, stepping closer. "I'm sitting right here," a voice said.
They both looked over to where a brunette man was sitting on the couch. Atsumu hadn't even noticed him, too wrapped up in Kiyoomi. He did recognise him though. It was the man that had held Kiyoomi back in the elevator.
"Atsumu, this is Motoya, my cousin," Kiyoomi introduced. So this was Motoya. Motoya smiled and waved at him. "It's nice ta meet ya," Atsumu said. "You too," Motoya smiled. "Glad to see you're alright. You've certainly given us a memorable moving in day."
Atsumu grimaced. "Sorry about that." "No worries," Motoya grinned. "I was just amazed to see how riled up you made Kiyo. I've never seen him like that before." "Motoya," Kiyoomi tutted. Atsumu chuckled. "Samu and Sunarin said you could join them if you wanted."
Motoya's brows raised like he was pondering. "Sure," he said, standing from the couch and heading straight to the door. He called out to them from the entryway. "Have fun you two." Then the door clicked closed behind him.
Atsumu and Kiyoomi looked at each other, both blushing but both smiling. They were alone together again, just under very different circumstances. Kiyoomi chewed at his lower lip. "I wanted to ask if I could take you out to dinner sometime."
A bright smile spread across Atsumu's face. "I'd love that," he said. "Although, I was hoping maybe you'd like to have dinner with me right now." He turned back to the counter and unpacked the bag he had brought. Kiyoomi moved to stand beside him, watching over his shoulder.
"It's homemade onigiri from Samu," he explained. Kiyoomi smiled at him. He was so close. Atsumu leaned in just that bit closer so that their shoulders were touching. Kiyoomi's scent wrapped around him and Atsumu had to hold back a content hum.
This is what he'd been dreaming of for the past four days, what he'd been craving. "You still smell so good," Kiyoomi commented. "Like honey." Atsumu blushed but his omega preened. Alpha liked his scent. Kiyoomi was craving him too. "Omi," he murmured, turning to face him.
Kiyoomi moved his hands until they were an inch away from Atsumu's waist. He stopped and asked, "Can I?" "Yeah," Atsumu replied breathlessly.
Kiyoomi's hand wrapped around his small waist and pulled him closer. He leaned down and Atsumu leaned up to meet him, their lips brushing. "I've been wanting to do this for the past four days," Kiyoomi admitted. Atsumu grinned. "So have I."
Then their lips pressed together, sweet but heated, tongues gently brushing. Atsumu raised his arms to wrap around Kiyoomi's shoulders and tangled his fingers in curly hair. This was perfect.
When they finally pulled away, they were both smiling like idiots. Kiyoomi gave another quick peck to his lips and squeezed his waist before moving away. Although, the distance between them was never more than an inch.
Kiyoomi reached for the unboxed onigiri and said with a smile, "Let's have that first date, shall we?"
tbc??
Part 2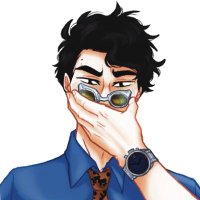 Sel
@CreatingRC
Part 3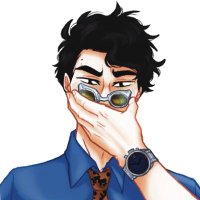 Sel
@CreatingRC
Part 4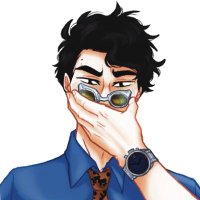 Sel
@CreatingRC
Beautiful art for part 1 by
@burcu ❥ slut era kisses y'all
A drawing for dear
@Sel🦉🦊
's thread, link is below
SEL I HOPE YOU LIKE IT i told you to lower your expectations for meeting them in the best way possible
Not so professional but the moment i read it the idea of drawing spinned around in my head for hours
#sakuatsu
Stunning art by
@∆ meli has no clue ∆
for part 1
Part 5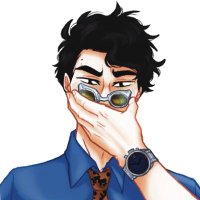 Sel
@CreatingRC