EXPLORING THE BENEFITS OF CRYPTO BRIDGING & WHAT TO EXPECT WHEN $VETME BRIDGES TO

#ARBITRUM

BLOCKCHAIN A THREAD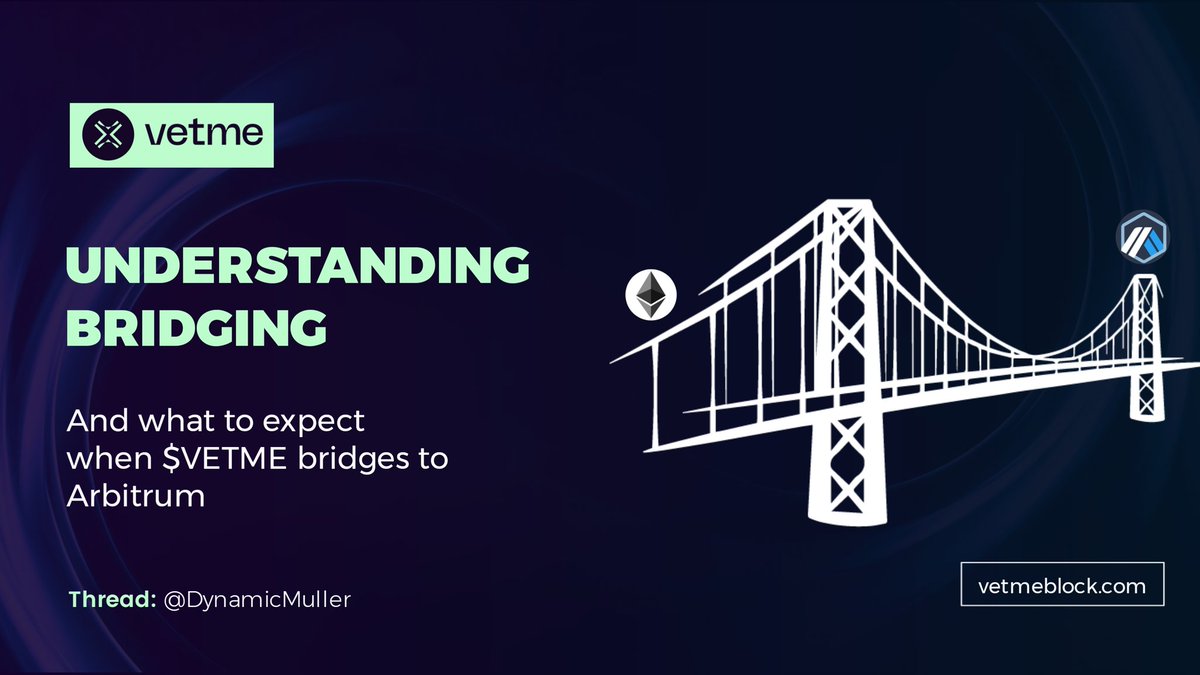 In the DeFi world, "bridging" refers to the process of connecting two separate blockchain networks, allowing assets to be transferred or "bridged" from one network to the other. This can be accomplished through a variety of means, including cross-chain atomic swaps, sidechains,..
..and centralized intermediary platforms. In other words, it's like a high-tech game of telephone, allowing two separate blockchain networks to communicate and exchange information and assets. Think of it as a "bridge" or "relay" that serves as a mediator between the two...
...networks, connecting them in a seamless and secure way. Bridging between Ethereum and Arbitrum, specifically, would involve connecting the Ethereum blockchain with the Arbitrum blockchain, allowing assets to be moved from one network to the other. This can be useful in a...
...number of ways, such as enabling the use of decentralized applications built on Ethereum with the improved scalability and security offered by Arbitrum. So without further ado, let's dive into "What to expect when $VETME bridges to
@Arbitrum (💙,🧡)
"
WHAT TO EXPECT WHEN $VETME BRIDGES TO
#ARBITRUM
$Vetme bridging to arbitrum is a big time catalyst due to the following reasons:
The advantage of bridging from Ethereum Blockchain to Arbitrum Blockchain allows it to benefit from the advantages of each...
...platform. Arbitrum is designed to improve scalability and reduce transaction costs, while Ethereum is designed to act as a secure, decentralized platform for smart contracts and decentralized applications. By bridging between these two platforms, projects can benefit from...
...the scalability of
#Arbitrum
while still maintaining the security of Ethereum. This can help projects to scale more efficiently and cost-effectively while providing a secure platform for their operations. Additionally, it can make it easier for projects to access a wider...
range of users and participants, as the bridge can make it easier to move between the two networks.
Moving to Arbitrum is a catalyst and many Day traders would jump for fast profit based on cheap transaction, thus increase in volume. Arbitrum is a blockchain-based...
...protocol that enables users to create and execute smart contracts in a secure and cost-effective manner. As a result, it has become a popular option for day traders looking to capitalize on the low transaction fees associated with the platform. With increased user adoption,...
...the volume of transactions conducted on Arbitrum is expected to grow, leading to greater liquidity and faster order executions. Moreover, by taking advantage of the low transaction fees and smart contract capabilities of Arbitrum, day traders have the potential to increase...
their profits and reduce their risks.Moving to Arbitrum is a catalyst and many Day traders would jump for fast profit based on cheap transaction, thus increase in volume.
It will attract more long-term investors $VETME bridging to Arbitrum Blockchain will attract...
...long-term investors owing to the fact that it can provide additional security and scalability for $VETME. Wondering how?
Don't worry, I'll shed more light on it.
This is because Arbitrum is a Layer 2 blockchain that is designed to run in parallel with Ethereum,...
...allowing transactions to occur off-chain without compromising the security of the main Ethereum blockchain. This means that Ethereum-based projects can take advantage of the speed and scalability of Arbitrum, while still maintaining the security of the Ethereum mainnet.
As said earlier, the bridge between Ethereum and Arbitrum allows tokens to be transferred between the two blockchains, which helps to increase liquidity and market depth. This can help to attract more long-term investors who are looking for more secure and scalable investments.
OTHER IMPORTANT CATALYSTS $VETME devs has also decided to conduct a token burn to decrease the overall supply and bolster the demand for the token and with their great roadmap for this Q1 2023 which includes: • $VetMe rebrand (Already done) • Staking platform
• Arbitrum migration • Beta release of OTC platform • A prototype of P2P escrow platform • The launch of Vetting and KYC platforms • Best network of influencers, & more. With all these analysis stated in the thread and the roadmap and most importantly AI integration,...
you would agree with me that $VETME really has great potential and is here to redefine DeFi for the best. Owing to that, it currently sitting at $2.3 million is a ticking time bomb. If I were you, one thing I wouldn't want to fade at this moment is $VETME
Envision yourself snagging a more valuable $CAKE at $2.3million MC? Wouldn't that have been amazing?
If you found this tweet helpful, ensure to follow
@BMS
@VetMe
@Dynamic Muller 🌴
to keep updated
To your success, Dynamic Muller
#DynamicMuller
For the sake of those that do not really know much about $VETME, here's a well detailed thread I wrote about it earlier
... You can simply just refer to that for a more vivid understanding
twitter.com/DynamicMuller/…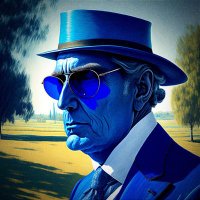 As the cryptocurrency industry continues to grow, so does the potential for scams & fraudulent activities. Unfortunately, these malicious actors have managed to manipulate the system & steal millions from unsuspecting participants. A solution is finally here!
@VetMe