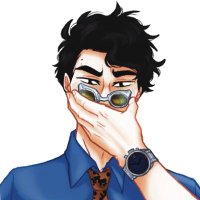 Sel
@CreatingRC
"I've booked us a nice restaurant for the weekend," Kiyoomi said the next day, just as Atsumu was rousing from a deep, peaceful sleep, a pleasant ache to his body from the night before. He shuffled down beneath the covers and sucked Kiyoomi's dick extra good that morning.
That Friday he spent the night at his. It felt strange and what was even stranger was that Motoya wasn't there; Atsumu was so used to seeing him in their apartment every time he'd return.
He woke up early on Saturday morning, excited to get back to Kiyoomi and spend the entire day with him before their meal that evening. Dressed in comfortable clothes, just as Kiyoomi had instructed, he made his way over, slippers shuffling against the floor.
He knocked on Kiyoomi's door and was greeted by the scent of freshly ground coffee and his boyfriend's half-closed eyes and soft curls as the door swung open; he looked so cute when he was sleepy. "Hi, darling," Kiyoomi smiled, languid and soft as he leaned down to kiss him.
Atsumu smiled against his lips, hands curled into his sweater sleeves as he wrapped them around Kiyoomi's shoulders. "Morning, Omi." The way Kiyoomi's scent washed over him had him purring as he led him inside by his waist.
He had a glass of iced coffee waiting for him and a steaming mug for himself. Atsumu sat at the kitchen island while Kiyoomi leaned against it on the opposite side, making soft noises in response to what Atsumu was chatting about, warm eyes watching him over the rim of his mug.
Once Kiyoomi had finished his coffee, he came around the other side of the island and draped himself over Atsumu from behind, smothering his cheek and neck with kisses.
Warm lips pressed to his nape and Atsumu's breath hitched when Kiyoomi murmured, "I can't wait to leave my mark on you," with a raspy voice still thick from sleep.
Atsumu's whole body ran hot and if it weren't for the fact he knew Kiyoomi had an entire day planned out for them, he would've begged him to claim him right there; that and the issue of Motoya entering the room right in that moment.
"Morning, love birds," he said, his smile as bright as his voice. "Too much energy," Kiyoomi grumbled, pressing his face into the crook of Atsumu's neck. Motoya was a morning person, Kiyoomi was not.
"Morning, Motoya," Atsumu greeted, reaching a hand up to pet Kiyoomi's curls. "I can't believe you've managed to get Kiyo out of bed at this time, the sun's barely risen," Motoya chuckled, patting his cousin on the back as he passed. "He'd only get up this early for you."
Atsumu smiled and turned his face to the side so he could kiss Kiyoomi's temple as Motoya poured himself a glass of water. "I'm grateful ta ya, my soon ta be alpha," Atsumu crooned.
A small growl slipped from Kiyoomi and he drew back to lick across Atsumu's nape; he shivered, lashes fluttering and fingers twitching against the counter.
"Rein it in you two," Motoya chuckled, glancing back at them over his shoulder. "I don't need you pulling another stunt like when you first got together." Atsumu rubbed a hand down his blushing face. He didn't need to be reminded of that.
"Why don't you go over to Osamu and Suna's?" Kiyoomi suggested, lips barely straying from Atsumu's neck. "Are you kicking me out of my own home, Kiyo? Rude," Motoya pouted. Kiyoomi scoffed. "You're never here anyway." "I wonder why," Atsumu added with a cheeky grin.
Motoya blushed, just as red as he'd made Atsumu. "I don't know what you mean," he replied, turning back to his drink on the kitchen counter and guzzling it down. Atsumu and Kiyoomi exchanged a glance, subtle smirks rising on their lips.
Motoya caught a glimpse of them grinning at each other and sighed. "I'm heading over there now just so I can get away from you two idiots," he said. "Samu and Sunarin are still asleep," Atsumu hummed. "But since it's ya, I'm sure they won't mind ya waking them up."
"Not one bit," Kiyoomi added. "I hate you both. You're going to be so insufferable when you're a pair," Motoya teased. "I'm happy for you." It was said with sincerity and a genuine smile. He passed by them again, patting Kiyoomi's shoulder. "Enjoy your day."
Atsumu offered him a bright smile as he wandered towards the entryway and rounded out of sight, the front door clicking shut a few moments later. Kiyoomi nestled his face into the crook of Atsumu's neck.
"Looks like we're alone," he said, his deep tone making Atsumu quiver. "I can get to pampering you the way you deserve." "And what does that entail, Omi?" Atsumu asked, a coy little grin on his face as he brushed their noses together.
"You'll see, darling," Kiyoomi replied, drawing back and placing a kiss on the tip of his nose before moving around the other side of the island. Atsumu sat and watched as Kiyoomi made breakfast for them both, not having to lift a finger.
Once it was served, Kiyoomi took a seat beside him and raised a fork filled with food to Atsumu's lips. Honey eyes dipped between Kiyoomi's face and the fork until Atsumu slowly leaned forward and took it between his lips.
He hummed at the taste, eagerly leaning in for another bite when Kiyoomi brought the fork up again. "This is delicious, Omi," he said. Kiyoomi smiled, cheek leaning against his fist.
Once they were both finished with their breakfast, Kiyoomi left Atsumu in the kitchen to scroll through his phone as he wandered into another room. Atsumu flicked through his socials and heard the distant sound of running water from another room.
Soft footsteps padded against the wooden floors, cushioned by slippers as they approached him from behind. Atsumu raised his phone. "Look, Omi. Bokkun and Keiji got a kitten," he said, smiling when he felt the alpha's chin resting against his shoulder.
"How cute," Kiyoomi mused. "Maybe we should get a cat," Atsumu said, looking back at the cute picture of a small grey tabby. "The building doesn't allow animals," Kiyoomi reminded. Atsumu pouted. "Maybe we should move then."
Kiyoomi chuckled and kissed him on the cheek, taking his hand and pulling him up from the chair. Atsumu followed him to the other side of the apartment, his nose twitching once they approached the bathroom door.
Kiyoomi pushed it open and steam flooded out. They stepped inside, the air thick with the sweet aroma of lavender and honey, windows frosted with condensation. Atsumu smiled as his eyes lowered to the bath, the gentle ripples of the water had the hints of a creamy swirl.
"It smells so good," he hummed, leaning over to dip his fingers into the steaming hot water. "Not as good as you, Atsumu," Kiyoomi said, stroking a hand through his blonde hair.
Atsumu stood and turned to face Kiyoomi, hands slipping beneath his t-shirt and gently tugging at the hem. Kiyoomi understood the silent request and raised his arms, letting Atsumu pull the fabric up his body and over his head.
Nose pressed to the alpha's throat, Atsumu inched his fingers beneath the waistband of Kiyoomi's underwear and tugged them down. He pressed a kiss against one of the glands on his throat then drew back. "Hop in," he said. "I'll join you in a minute.
He watched Kiyoomi climb into the bath, long legs arcing over the sides of the tub and pale body sinking into the water. A relaxed sigh left his lips, his head tipping back and muscle visibly loosening.
He reached for his sweater, yanking it up over his head and chucking it to the floor, noticing the way dark eyes watched him as his hands fell to his sweats. Atsumu kicked them off when they pooled around his ankles along with his underwear and climbed in after Kiyoomi.
He sat between the alpha's spread legs, so they were chest to back. Hands were on his waist, gently caressing and pulling him closer. The water lapped around him, warming his skin until it prickled. The heat was soothing and the scent calming.
He relaxed, head resting back against Kiyoomi's shoulder Any tension left his body as Kiyoomi peppered kisses against his temple and his fingers worked the scents of lavender and honey into his skin. Atsumu preened, loving each touch and how he had alpha's undivided attention.
Diligent fingers scrubbed shampoo through his hair, working it into a lather to be washed away later. Hands languidly stroked across his body, cleansing him with soap and the gentle bath soak mixed in with the water until his skin felt soft and nourished.
Kiyoomi showered him in kisses and gentle flicks of his tongue, paying close attention to the glands on Atsumu's nape and the crooks of his neck. Here, nestled against Kiyoomi, held in his embrace, Atsmu felt so safe, so loved. This was his alpha.
A pleasant purr cascaded from his tongue, carried by the drifting steam and mixing with the fragrance of lavender and honey, the noise just as sweet.
They stayed in the bath until the water turned tepid and their skin was pruning. Kiyoomi helped him from the bath and towled his hair dry, rubbed the soft cotton of the towel down his body and kissed his lips once he was done.
Kiyoomi dried himself off too then led Atsumu out, clothes abandoned on the bathroom tiles. He was taken by the hips and lifted into Kiyoomi's arms, legs wrapped around the alphas waist and fingers grasping his shoulders.
A soft smile crossed Kiyoomi's lips, reverence gleaming in his eyes as he carried Atsumu through to their bedroom and laid him down, crawling over him and kissing sweet lips until their breaths mingled.
Kiyoomi drew back but kept his hands on Atsumu's waist, thumbs gently brushing in small circles as he took in his flushed skin, still tinted pink from the warmth of the bath.
Atsumu leaned up on his elbows, noticing something from the corner of his eye and gazing over, seeing the abundance of cushions and blankets laid out beside him. He looked back up at Kiyoomi with a puzzled expression.
"I thought we could make a nest together," Kiyoomi said, looking almost shy as he spoke. Atsumu's heart did a small somersault; he had never been so in love.
He reached up, his fingers soft against Kiyoomi's cheek as he leaned in to kiss him. Fingers laced into those inky black curls and guided him closer, not leaving an inch between them. "I'd love that," he said when he drew back, fingers brushing across Kiyoomi's nape.
With a tender smile Atsumu began sorting through the cushions and blankets, arranging them into the perfect positions. He would lie down to test the comfort then get back up when he felt it wasn't quite right.
He handed items to Kiyoomi, instructing him where to put them, the alpha doing so with a smile on his face. He lay down once more but the nest still didn't feel complete. It was missing something.
Atsumu began routing through Kiyoomi's wardrobe, pulling out the clothes with the strongest scents still lingering on them. T-shirts, sweaters and underwear were all thrown onto the bed, waiting to be arranged but Atsumu wasn't done yet.
He moved to his side of the wardrobe, picking out some of his own clothes and those he had accumulated from those closest to him. Hoodies and sweaters that had been left by Bokuto and Shoyo, his friend's scents were soothing, as were their pairs' familiar scents that lingered.
A scarf Kita had left when he'd visited a month ago, his omega scent pleasant, and a glove that must have fallen from Aran's coat pocket on that same visit. One of Suna's sweatshirts he had borrowed because it was the cosiest he had ever worn.
He loved the way he had to roll up the too long sleeves. Osamu's scent also tinged the fabric; it was the smell of home and the alpha and omega's scents mingled together in the most comforting way.
Then he wandered from the room, leaving Kiyoomi sitting in their nest looking perplexed. He pushed open the door to Motoya's room and routed through his draws.
He was sure Motoya wouldn't mind him borrowing some of his clothes; he'd got so used to the beta's mellow scent back in his apartment and found his scent calming. He could even smell Osamu and Suna's scents lingering there. He almost rolled his eyes.
Could those idiots be anymore obvious? He headed back to their room, two of Motoya's t-shirts clutched in either hand. Kiyoomi chuckled when he saw him and all Atsumu could do was smile because the alpha looked so sweet and radiant sitting in their nest.
Atsumu clambered back into their nest, adding Motoya's clothes to the pile. He slowly set about placing them, meticulous with each position he would choose for them. He worked around Kiyoomi, occasionally throwing the alpha's own clothes at him and telling him to scent them.
Kiyoomi rubbed them against the glands on his neck then handed them back to Atsumu who would sniff them and give a satisfied nod as he placed them down in the nest.
Once Atsumu was done he sat on his knees across from Kiyoomi, inspecting the nest and letting out a small, pleased sigh when he deemed it suitable.
He looked up at the alpha, seeing a glowing smile on his face. Kiyoomi opened his arms and Atsumu instantly jumped into them, sending Kiyoomi sprawling into their nest.
His cheeks and lips were lavished with kisses and Kiyoomi's fingers skated, feather-light down his spine, the pads of them pressing into the two dimples on the small of his back.
"Such a lovely nest you've made for us, Atsumu," Kiyoomi said in a hushed tone against his lips. Atsumu's omega preened.
He pressed himself against Kiyoomi's strong body and cupped his jaw in both hands, kissing him until they were breathless then leaned their foreheads together, soft laughs passing between them.
Kiyoomi rolled them over, Atsumu beneath him, back pressed into the plush, soft fabrics of their nest. He sat back between Atsumu's spread legs and admired, his hands trailing across the soft skin of his tummy and thighs.
"You're so beautiful, darling," he thrummed, reaching down and brushing his hand against Atsumu's arm and trailing down until their wrists rubbed together.
Atsumu spotted the scar on his forearm and brought his fingers up to stroke across it. He tugged Kiyoomi's arm up, pulling Kiyoomi over his body and pressing his lips to the scar. Soft eyes roamed across his face then Kiyoomi leaned down to rub their necks together.
His scent washed over Atsumu, blanketing him and making him feel safe. His own pheromones seeped out as their glands pressed together and Atsumu's lashes fluttered at the way they mingled. Kiyoomi's scent was so strong he could taste it on his tongue.
Soft whimpers left his lips as Kiyoomi swapped, scenting the other side of his neck then moving down to the crook. Atsumu melted into their nest, letting the scent envelop him. His head tipped back and a small growl vibrated in Kiyoomi's throat as he exposed his neck to him.
When Atsumu was thoroughly covered in Kiyoomi's scent, the alpha drew back, placing gentle kisses down his chest to his stomach. Big hands squeezed his thighs then Kiyoomi leant down pressing his neck to one of Atsumu's them, rubbing across the gland there.
Atsumu gasped. Kiyoomi was scenting him all over. His body lowered into their nest and he hooked Atsumu's legs over his shoulders. He pressed his lips to Atsumu's thigh, dark eyes glancing up to watch him, admiring every curve, appreciating every blemish and dimple of his body.
The crook of his neck fit perfectly against Atsumu's thigh, their glands rubbed and Atsumu purred, his pheromones releasing in a sweet flood that washed over the alpha.
He saw the moment his scent teased Kiyoomi's senses, wafting past his nose and smothering his taste buds, his pupils dilating; an inky black abyss Atsumu got lost in time and time again.
Kiyoomi's scent radiated just as strong, covering Atsumu until his mind was left swimming. He squeezed his thighs together, pressing both of them to Kiyoomi's glands at once.
Caged between Atsumu's thighs, the alpha's gaze turned heated, he looked like he was ready to devour him but restrained; he wouldn't sully their nest, not yet anyway.
That would have to wait until they were back later in the evening, desperate for the other's touch and ready to be claimed.
A shiver ran down Atsumu's spine. That sounded perfect. Atsumu finally loosened his thighs when Kiyoomi was practically drooling, looking like he was struggling to hold himself back.
He placed light nips on both of Atsumu's thighs, lowering his legs from his shoulders and crawling back up their nest.He lay on his side and Atsumu rolled over to face him, arms winding around his shoulder as Kiyoomi pulled him closer by the small of his back.
Kiyoomi kissed him, slow and sedate, like they had all the time in the world to spend in each other's arms. To Atsumu, they did; this was the only place he wanted to be. In their nest he felt safe, in Kiyoomi's arms he felt protected, loved.
He pressed his face into Kiyoomi's chest, shivered at the fingers dancing across his spine. His muscles loosened and eyelids drooped, he felt so relaxed. With a small yawn, he hitched his leg over Kiyoomi's hip, getting their bodies as close as he could.
"Tired?" Kiyoomi asked him. Atsumu nodded, resting his chin on Kiyoomi's chest so he could look up at his smiling face. "Let's get some rest then," Kiyoomi said. "We still have hours before the reservation."
He kissed Atsumu's forehead, his nose and then his lips before cradling his head to his chest. Atsumu smiled, his cheeks warm as he nuzzled against Kiyoomi and nestled into their nest. He drifted off, feeling safe in their nest and wrapped in Kiyoomi's embrace.
He awoke some hours later to the comforting rise and fall of Kiyoomi's chest, cosy as warmth radiated from the alpha. A sleepy hum passed his lips and he felt fingers tracing down his spine.
A smile rose on his face as he glanced up, blinking the sleep from his eyes so he could see Kiyoomi's handsome face smiling back at him. He looked just as sleepy as Atsumu felt, his lids heavy and curly hair mused; he looked adorable.
"Hi, darling," he said and Atsumu shivered at the slight rasp. "Hi, Omi," Atsumu replied. "Did you sleep well?" Kiyoomi asked, bringing his hand up to brush Atsumu's hair away from his face. Atsumu leaned in and pressed his lips to Kiyoomi's collar bone.
"So good," he answered. Kiyoomi tilted his chin up and kissed his lips. "So did I, darling." Atsumu chuckled and pulled him in again, wrapping himself around Kiyoomi and rolling them over so the alpha was on his back and he was lying on top of him.
He nosed against Kiyoomi's throat then started kissing, sucking and nibbling his skin. Kiyoomi's head tipped back and a low noise vibrated in his throat.
Atsumu grinned against his neck and teased his tongue over the alpha's glands. Kiyoomi grunted and his hands lowered from Atsumu's back down to his ass, slowly kneading it in his large palms. He shivered when he felt a finger dip between his cheeks and trace across his hole.
"You're wet," Kiyoomi rasped. Atsumu purred against his throat, "Ya goin' ta do something' about it, alpha?" "Don't tempt me," Kiyoomi grunted, his finger brushing circles around his rim. "I thought we were waiting until this evening."
Atsumu whined, pushing his hips back against Kiyoomi's finger as he kissed him. When they drew back, Atsumu gave him a wily grin, a glint in his eyes.
"We are," he said, giving Kiyoomi a quick peck on the lips before sitting up on his hips and feeling his half-hard cock pressed against his ass. "I should go and get ready for our reservation."
He climbed out of Kiyoomi's lap and gave him a wink as he headed for the door. He went to the bathroom to find his clothes and get dressed.
When he came out, Kiyoomi was standing there, now wearing a pair of briefs but definitely still hard, he could see the bulge in the front of the fabric.
He grinned as he approached him, lower lip tucked beneath his teeth. Kiyoomi had a heated look in his eyes and a slight pout on his face. Atsumu leaned up to kiss him and the alpha pulled him in by the waist, wrapping his arms around him and holding him close.
"I'll see ya soon, Omi," Atsumu said softly. "I love ya." Kiyoomi nuzzled against his neck, taking in his scent. "I love you too. I can't wait for us to be a pair." Atsumu felt his heart clench. He ran a hand through Kiyoomi's curls, brushing them away from his face.
"I can't wait either," he said sweetly, kissing Kiyoomi again. The alpha's hands slowly fell away from his waist, one settling on the small of his back as they walked to the entryway together.
He shuffled into his slippers and with a wave and one more kiss, he headed back to his own apartment. As always, Osamu, Suna and Motoya were lounging on the couch, way too close for it just to be friendly.
"Tsumu, yer back," Osamu said, looking back at him when he entered the main room. "Yeah," he replied, still feeling drowsy from their nap. "Gettin' ready fer our reservation." "You sound… mellow," Suna hummed as Atsumu walked past them towards the bathroom.
"Omi's been pamperin' me all day," Atsumu replied, stretching out his limbs as he went. "We even made a nest." He shut the bathroom door behind him and turned on the shower, letting the water run hot until steam flooded the room.
He undressed and stepped inside, his skin prickling and blooming red beneath the hot spray. Once he was done he towled his hair dry and wrapped a towel around his waist before stepping out into the main room. He locked eyes with Suna.
"Sunarin, can ya help me choose what ta wear?" he asked sweetly. Suna scoffed. "Sure." He pushed himself up and followed Atsumu who had already headed into his room to pull on some briefs.
Suna sat on the bed as Atsumu routed through his wardrobe, clothes getting scattered all over the floor. "Is my sweater that you borrowed, in there?" Suna asked. Atsumu glanced back at him sheepishly. "It's in the nest, yer not gettin' it back." Suna scoffed. "Asshole."
"I'll give it ya back when me and Omi are a pair," he said. Suna pulled a face. "Gross, you can keep it." "Oi," Atsumu chuckled, chucking a different sweater straight at his face. Suna pouted at him when the fabric fell to his lap. "I'll keep this one then."
"Keep it. Make yer own nest with it," Atsumu grinned. Suna stuck his tongue out at him as Atsumu sat beside him. A fond smile rose on Suna's lips. "All teasing aside, I'm really happy for you, Atsumu," he said. Atsumu returned his soft smile. "Thanks, Sunarin."
A moment passed then Atsumu whined, "What am I goin' ta wear? I need ta look good." "You could turn up in a trash bag and Kiyoomi would still think you look beautiful," Suna chuckled as he stood and began looking through Atsumu's wardrobe.
After a few flicks back and forth his hands stopped and pulled something out. "How about this?" Atsumu eyed the outfit and nodded.
Now dressed and presentable, he looked at himself in the full length mirror, admiring the light grey suit jacket and matching trousers, paired with a black turtleneck beneath. Suna had done well.
He styled blonde hair out of his face and doused himself in Kiyoomi's favourite cologne; his own scent. By the time he exited his bedroom, his pheromones came flooding out with him. "Fuckin hell, Tsumu," Osamu choked, pinching his nose.
Motoya chuckled beside him. "Kiyo will be able to smell you all the way from our apartment." "That's the plan," Atsumu grinned. "I want ta smell good fer my soon ta be alpha." Right then, there was a knock at the door.
Atsumu straightened himself and smoothed down his suit jacket. "Have a good time," Suna called from the couch. "Have fun," Motoya smiled. "Thanks," Atsumu said with a beaming smile.
His eyes drifted to Osamu who rose to his feet and approached him. He had an unreadable expression on his face that had Atsumu's brow furrowing but then he wrapped his arms around him in a big hug. He hugged his twin back.
"He's an amazin' alpha. I'm so happy fer ya, Tsumu," Osamu said with a tight voice. "I love ya." Atsumu gave him a dewy smile. "I love ya too, scrub." He blinked the happy tears from his eyes as they drew back.
"Go on," Osamu said with a soft smile. "He'll get nervous if ya leave him waitin' out there fer too long." Atsumu laughed and quickly headed for the door, flinging it wide open and smiling at the sight that greeted him.
Kiyoomi was standing in the hallway, wearing a black suit and crisp white shirt with the top few buttons undone. His hair was neatly styled, pushed out of his face but still leaving his curls prominent. He looked so handsome.
He saw Kiyoomi's pupils dilate at the scent of him, his nose twitching as he breathed him in. A grin rose on his lips as the alpha stuttered out a greeting. "H-Hi, Atsumu." So endearing. "Hi, Omi," he replied with a coy smile. "What've ya got there?"
Kiyoomi glanced down at what he held in his hands and quickly raised it towards Atsumu. "Flowers. For you," he said, cheeks burning red. So cute. Atsumu reached out and took them off him, letting their fingers brush.
"Thank ya. Yer so thoughtful," Atsumu smiled. "They're beautiful and smell so good." "Not as good as you," Kiyoomi said. Atsumu smiled and chewed his lower lip. "Ya think I smell good?" he asked. He damn well knew the answer. Kiyoomi was practically salivating.
"You smell divine, darling," Kiyoomi said in that deep silky voice that always had Atsumu on his knees. "Can ya not flirt in the doorway. We can hear ya, ya know," Osamu called. Atsumu giggled and Kiyoomi blushed even harder.
"Give me one sec ta put these in water," he said. He turned back into his apartment, taking the bouquet with him and filling a vase with water, placing the flowers inside and leaving it neatly in the centre of the dining table.
"See ya later," he called to the three on the couch who all returned with goodbyes of their own. Atsumu raced back out to Kiyoomi, beaming ear to ear as he wrapped him in a tight hug.
He closed the door then took Kiyoomi's hand as they headed down the hallway to the elevator. "Ya look so handsome, Omi," Atsumu said as they waited. "Yeah? You look beautiful, Atsumu," Kiyoomi replied, leaning in to kiss him.
A second later the elevator doors pinged open and they stepped inside, still smiling at each other like idiots. Kiyoomi pressed the button to the ground floor and they both breathed a sigh of relief when the door slid open.
They hadn't got stuck in the elevator since the first time they'd met but they always loved to joke about it. Missing their fancy reservation wouldn't have been so fun though.
The restaurant was a short walk, just that bit further into the city. It was beautifully decorated with opulent lighting that cast a soft, warm glow over them. They sat across from each other with a candle swaying at the centre of the table.
They shared a bottle of wine and Kiyoomi fed him as much of his dish as Atsumu wanted. Their dessert was also shared, Kiyoomi feeding him with a spoon across the table. Atsumu had his cheek resting in his palm as he and Kiyoomi chatted, waiting for the bill.
He couldn't take his eyes off him, that pretty smile, those mesmerising eyes and the moles above his brow unobscured by his styled back curls. Atsumu was so in love.
Wine swilled in Kiyoomi's glass as he brought it to his lips and sipped the last few drops. Atsumu's eyes were drawn to the way his throat bobbed and his pink tongue flicked across his lips to catch a stray bead of red wine. He was suddenly antsy for the bill to arrive.
He extended his leg and brushed his shoe against Kiyoomi's ankle. Dark eyes met his own and he smirked, slowly trailing his foot up Kiyoomi's calf. "Atsumu."
The way he said his voice made a heat curl in his core. His eyes dropped to the alpha's exposed collar bones, the pale expanse of skin looking delectable; he couldn't wait to leave his marks across him too.
He rubbed his foot up and down, voice quiet as he spoke. "I can't wait fer ya ta get me home." Kiyoomi gulped, looking like he was ready to absolutely ravage him. "I'll take care of you just the way you need, darling," he said with that velvety voice.
"I'll put my mark where it belongs." Atsumu squirmed in his seat. If Kiyoomi kept talking like that he was going to start leaking slick right here in the restaurant. Maybe he already had because he saw Kiyoomi's nostrils flare and heard a small growl rumble in his throat.
When the waitress brought the bill to the table, Kiyoomi paid it and threw down a tip. Before he knew it they were outside, walking back to their apartment, Kiyoomi's hand on his waist and lips on his neck. "Smell so good, Atsumu," he said. "Wanted to have you right there."
Atsumu whined, his body feeling all too hot despite the chill outside. "Omi, need ya," he whimpered. "You'll have me, just be patient," Kiyoomi crooned, kissing across the line of his jaw.
When they arrived back at their apartment, Kiyoomi held the door open for him. As soon as Atsumu stepped inside his skin prickled, a wave of warmth washed over him until he felt sweat beading at his hairline.
He took a deep breath, stumbling slightly as his legs began to tremble. He felt a hand on his arm and another on his back. "Atsumu. Are you okay?" Kiyoomi asked, voice laced with concern. "Omi, I feel… hot," Atsumu panted, clawing at his turtleneck.
Kiyoomi pressed his nose to Atsumu's throat, taking a deep inhale, followed by a heavy breath. "You're heat's starting," he murmured, voice just that bit lower. Atsumu scoffed as Kiyoomi met his eye. "Perfect timing."
"It is," Kiyoomi hummed, cupping one side of Atsumu's jaw and letting his lips trail kisses across the other. "I can't wait to have you in our nest." Atsumu whined high in his throat. Kiyoomi helped him to the elevator, pressing the button and moving them both inside.
He hit the button to the fourth floor then turned all his attention to Atsumu, placing hot kisses across his jaw and tugging down his turtleneck so he could lavish his neck, the other hand pushing beneath the hem to brush against his stomach.
Atsumu whined as their bodies pressed together, He could feel Kiyoomi through his trousers, his large bulge digging into his thigh. It had Atsumu leaking through his briefs, staining the back of his trousers.
"Omi, I need ya," he begged, curling his hands in Kiyoomi's suit jacket. "We're nearly there, darling," Kiyoomi soothed, a sultry husk to his voice. "Just a couple more floors."
Their lips met in a messy kiss, all hot breaths and desperate pleas, tongues pressing together. Atsumu was grinding his thigh against Kiyoomi's straining cock when the elevator squeaked and thunked to a halt. Their lips parted and Atsumu clung to Kiyoomi as he held him close.
"What's happening?" Atsumu whimpered. His head felt fuzzy and all he could concentrate on was getting the alpha out of his trousers and getting his fat knot inside him.
He spared a glance at the elevator console screen, seeing the number 4. That was their floor, yet the doors weren't opening. "Omi," he whined, feeling heat curling in his stomach and leaving him aching. "Shit," Kiyoomi murmured. "Not now."
Atsumu whined in confusion, holding onto Kiyoomi as his knees started to buckle. "Omi. Nest." He nuzzled Kiyoomi's scent glands, smelling the rising stress creeping into his scent. "I'm sorry, Atsumu. I can't get you to our nest," he said, trying to sooth him.
"Why?" Atsumu whimpered, drawing back and panting as he looked up at Kiyoomi's face. A heavy breath left Kiyoomi, his brow pinched. "Atsumu… the elevator's stuck."
tbc. Stuck in the elevator round 2!